Corrie weekly updates from 1995
All the wit and warmth of Weatherfield
None of the waffle

Available from
amazon.co.uk
or

amazon.com
There's an armed police raid this week on Coronation Street! Tracy and Amy go on the run and Tracy bundles Rob Donovan into the boot of her car. Amy thinks she and her mum are going on holiday. Rob thinks he's going on the lam with Tracy via his underworld mate Tiggsy. Only Tracy knows that both her lover and her daughter are in the car. Well, that secret doesn't stay quiet for long. After a week spent moping around a cottage in the middle of nowhere with no phone signal, Amy's bored and heads out to a phone box to call Steve.

Everyone back on the Street is worried about Tracy and Amy's whereabouts and they're reported as missing, even turning up on the local news. Amy walks in on her mum snogging Rob and finds out the real reason they're shacked up in the countryside. And it's at that moment that sirens are heard and the cops close in on them all. Tracy tells Rob to drive off with Amy and gives herself up to the cops, telling them she's been hiding out because she was the one who attacked Ken. Oh, what a tangled web they weave. Adam, meanwhile, is released by the cops and threatened by Roy in the cafe with a pair of cake tongs.
Elsewhere this week, Nathan plays with Bethany's emotions something awful. It's like she's a yoyo at the end of a string that he's pulling towards him and then pushing away, and all the while all Bethany wants is someone to love. Things take an even nastier turn when Nathan throws a party at which it's expected that Bethany will go to bed with his mate Neil. She can't understand why Nathan doesn't stop Neil from leading her into the bedroom and is hurt and confused. It's horrible stuff. But then Nathan rewards Bethany for sleeping with his mate by proposing to her with a big, show-off ring.
Back home on the Street, Sarah and Gary find out what's happened when Gary spots that Bethany's changed her relationship status online to 'Engaged'. There's an emotional scene in the tanning salon when Sarah goes to see Bethany and takes her an engagement card. It's Audrey's idea, she tells Sarah not to push Bethany and Nathan apart as that would only make Bethany more determined to stay with him. But after Sarah leaves the salon, Bethany breaks down in tears, while behind her Neil returns and this time, he's got another fella in tow.
There's bother at the Bistro now that Michelle is in charge – and she moves in to Robert's flat with him too. She cancels the Bistro's contract with Streetcars to spite Steve and then decides she wants to try new dishes on the menu. Zeedan's keen to impress and rustles up Indian street food delights, but while Robert and Michelle say they like his work, he's upset as he's not getting a pay rise. Speaking of Zeedan, it was good to see his mum Yasmeen back this week too.
Meanwhile, Rosie and Sophie come face to face with Sally's sister, their aunt Gina this week. But far from confirming that Gina is the one who has been stalking Sally, it makes me think that this Leah one is the stalker, not Gina, after all. It turns out that Gina has a bipolar condition, which Leah reminds her of and tells her that's the reasons he can't remember stalking Sally. But is Leah really the one behind it all?
Billy and Todd have much on their minds as they discuss whether they can take on dying Drew's daughter Summer. Billy wants to keep his word to Drew and take in his god-daughter, but Todd is a man who still lives with his mum isn't ready to take on anything more than a new haircut right now.
And finally this week. Eva was supposed to attend a business lunch with Aidan, but they have a falling out after she talks about wedding frocks non-stop and he's not interested. Frankly, neither are we, fantastic as it would be to see Eva go bridezilla, these two should go nowhere near an aisle in a church. Eva drops out of the lunch and into her negligee trying to tempt Aidan into a bit of how's-yer-father when he returns from the lunch. But Aidan has already eaten and had his desserts too, with Maria, after they get comfy on the sofa again and do, you know, it. Yes, Maria has stepped in for Eva at the lunch with Aidan where she gets a bit tipsy and pretends to be Eva, even copying her laugh. After their rumpy-pumpy on the sofa, Maria tells Aidan she'll be his lover. She's got no self-respect, that Maria, never has had. This remember, was the woman who married Liam Connor even though she knew he loved Carla. It can only end in tears.
And that's just about that for this week.
Remember, you can sign up to get these Corrie weekly updates by email at
http://www.corrie.net/updates/weekly/subscribe.htm
This week's writers were Ellen Taylor (Monday double); Julie Jones (Wednesday); Mark Burt and Martin Allen (Friday double). Find out all about the Coronation Street writing team at
Coronation Street Blog: Exclusive: All Current Corrie writers online
Glenda Young
--
Blogging away merrily at
Flaming Nora
Website:
glendayoungbooks.com
---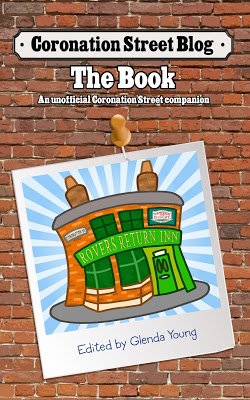 Please read
our advice for leaving comments on the Coronation Street Blog
All original work on Coronation Street Blog is covered by a
Creative Commons License