Yesterday, we blogged about
the unveiling of Kym Marsh's waxwork
at Madam Tussauds Blackpool, where they have a specialist Coronation Street exhibit. They have the frontage of the Rovers, followed by a number of houses (each containing items relating to Corrie's history in the windows), followed by a loosely based interior of the pub. Apparently, they've also just opened up a replica of the beer garden. Kym's waxwork is one of seven Corrie related models already at the world famous museum, joining Jack and Vera, Hilda Ogden, Bet Lynch, Ken and Deirdre.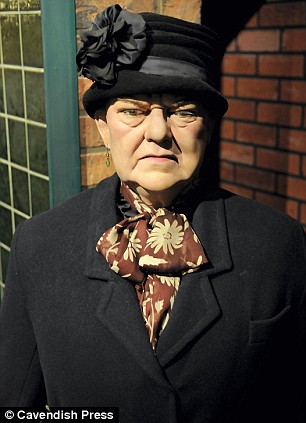 Violet Carson's waxwork appeared at Louis Tussauds Blackpool for fifty
years. It was horrific.
Now don't get me wrong, whilst the current models are pretty much identical to their human counterparts, I can't help but notice that there is something not quite right. And then I cast my mind back to models that featured in the house of wax that occupied the building prior to 2011, Louis Tussauds, because they were truly hideous. Digging through the old photo albums, I could find countless photographs of me and my family posed around figures that didn't look remotely similar to the celebrities they were in likeness of. But I couldn't find any of the Coronation Street exhibit which has been at the museum since the early 1960s.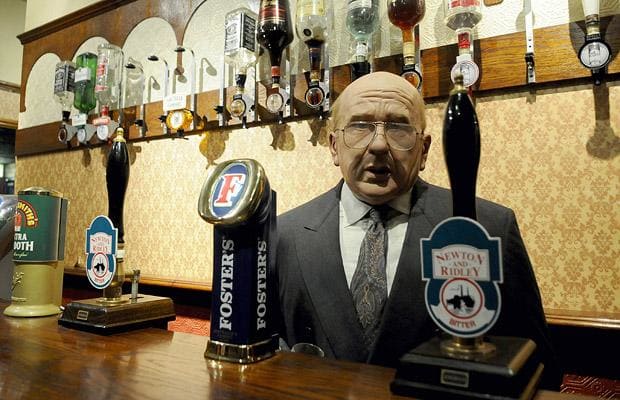 Alec Gilroy's waxwork was appalling.
Just not quite right, and very plastic
in appearance.
Research I did on the waxworks showed that Violet Carson was the first to be immortalised in wax as Ena Sharples, and she unveiled it when switching on the Blackpool illuminations in Summer 1961. It just shows how popular her character must have been after just eight months on screen. Julie Goodyear and Roy Barraclough both added to the museum in 1990 as characters Bet and Alec, once again following the illuminations switch on. The three remained alone,
alongside a frontage of the Rovers, until 1998 when a to-scale replica of Jim's Cafe opened on site at the museum, complete with Roy and Hayley models. I'm not sure, but judging by the photographs, I believe that either Gail or Alma had a waxwork too, seen stood at the counter.
Thank goodness some order was in place from 2011, when Madam Tussauds bought the Louis Tussauds building and removed all of the old models. The only thing they kept was the frontage of the Rovers Return. Out of all of the current waxworks, I believe that Hilda Ogden's is possibly the worst. She looks so childlike for some reason. As for the future of waxworks in Blackpool, I'd love to see some more iconic characters returning to the museum, such as Ena Sharples. Surely someone still has that poor Violet Carson model kicking about in their attic?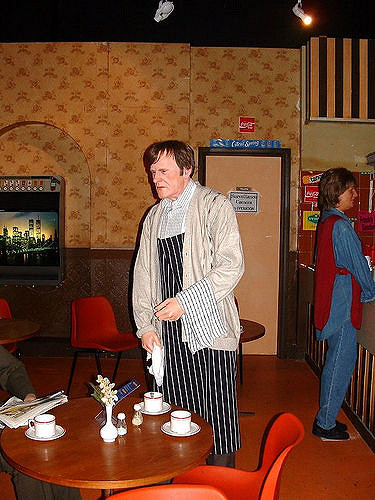 The rather good Jim's Cafe recreation,
much better than the waxwork of
Roy. Note the waxwork in
the background. I'm not quite sure who
it's supposed to be.
I hope you enjoyed this rather random post from myself. But hopefully it sparked some nostalgia for some readers. I can be found on Twitter @MichaelAdamsUk, and @CStCollection.
---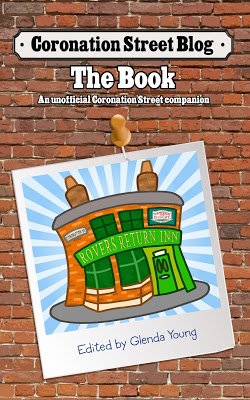 Please read
our advice for leaving comments on the Coronation Street Blog
All original work on Coronation Street Blog is covered by a
Creative Commons License