Corrie weekly updates from 1995
The Barlow secret is out when it was revealed that Daniel attacked Ken and pushed him down the stairs. Yes, Ken's golden boy son was the one who tried to kill him. But Ken doesn't know this yet. In fact, us fans are the only ones who know, for now. It starts to unravel when Ken begins to remember details from the night of his attack. At the same time, Adam kidnaps Daniel and drives him off in the boot of his car, blaming him for Ken's attack. Our loyalties are torn here – was it Adam or Daniel? Which one of the two – Ken's little angel or devil son of Mike Baldwin – could have wanted Ken dead?
Then, a whisky bottle dropped to the floor and a pair of red shoes prompt Ken to remember details. He pins the blame on Adam who's whisked away by the cops. At home, Ken asks Daniel about the poetry book he bought him. An uneasy look crosses Daniel's face – and that's when we find out what really happened. Daniel has to buy a replacement book. It's a hefty tome, and he's got the original one, now covered in Ken's blood, hidden under the floorboards in the flat. Oh Daniel, you naughty, naughty boy.
Over at Underworld, it's the 20th anniversary since Mike Baldwin first opened the place. A party is in full swing in the Bistro. Eva thinks Aidan's going to propose to her and she gets very excited, and then very drunk when there's no ring, no proposal, no nothing. She does a good drunk, does Eva, very funny indeed.
Also in Underworld, Gina apologises to Sally for trolling her and sending her the pig's heart. Sally's shocked and stunned and Gina begs for forgiveness, telling Sally that her bipolar illness means she can't remember doing it. "Who can't remember putting a pig's heart in a box?" Sally cries. But it's no wonder Gina can't remember – because she didn't do it. The truth comes out that the trolling was all Leah's doing and Tim sends her off with a flea in her ear when he discovers what's going on. Gina moves out thinking that Sally won't want anything to do with her, but Sally welcomes her sister with open arms after Tim finds her walking the streets.
Last week we ended with Bethany under the bridge by the canal, lost and alone after fleeing from the Platt house after fighting with Gary and Sarah. It's Craig who finds her. Good old Craig to the rescue. I think we could all do with someone like Craig in our lives. Minus the rat, of course. Yes, Craig finds her and takes her to hospital where her hand gets bandaged. He's concerned for her and wants her to let Sarah know she's all right. But then Nathan turns up at the hospital and drags Bethany back to his flat. Now, you're probably asking yourself how Nathan knew how to find Bethany. Well, this is where things take a more sinister turn.
Nathan's mate Neil who Bethany was forced to sleep with the other week turns out to be a copper. Nathan found Bethany through some detective work on Neil's part. But worse is to come. When Sarah and Gary ring the cops with their concerns that Bethany is being treated badly by Nathan, it's PC Neil who arrives at the Platts. And as if that wasn't bad enough, young Craig has a mentor in his new role as a trainee copper, and yup, you've guessed it, it's Neil. What a horrid, nasty tangle this is.
Kate insists on taking her dad to see the GP as he's been collapsing on the cobbles. The doc's concerned enough to send Johnny to the hospital for tests for Multiple Sclerosis and Parkinson's Disease. Jenny, as yet, knows nothing about her fella falling down.
Norris moans to Mary and tells her he's in agony after the incident last week with the cow pat and the geese. She's had enough of him moaning but feels guilty about what happened to him so does her best to appease. That is, until Norris reveals he's only after her sympathy, afraid that Mary was going to move away, and whisks off his neck brace. When Norris is nice, he is very, very nice. And when he is bad, well, we all know what he's like. His good side came out again when Mary told him that her son Jude had been in touch and he's coming to live in England and bringing his family too. Norris even cracked a smile at Mary's good news, especially when Mary told him he was her special friend.
Upstairs in Roy's flat there's tension at the tea table between Brian and Roy. These two are the most annoying odd couple you've ever seen. If I were Roy, I'd throw Brian out. And if I were Brian, I'd gladly pack up and leave. Meanwhile, Cathy flirts with Brian but neither of them want to take things any further for fear of hurting Roy.
And finally this week, over at the Rovers, Peter tells Steve that he'll buy the pub. Nick overhears what's going on and out of spite, offers Steve more money to buy it. Steve tells both of them he's not selling to either, so there!
And that's just about that for this week.
Remember, you can sign up to get these Corrie weekly updates by email at
http://www.corrie.net/updates/weekly/subscribe.htm
This week's writers were John Kerr and Owen Lloyd-Fox (Monday double); Simon Crowther (Wednesday); Chris Fewtrell (Friday double). Find out all about the Coronation Street writing team at
Coronation Street Blog: Exclusive: All Current Corrie writers online
Glenda Young
--
Blogging away merrily at
Flaming Nora
Website:
glendayoungbooks.com
Read more Corrie news and spoilers
---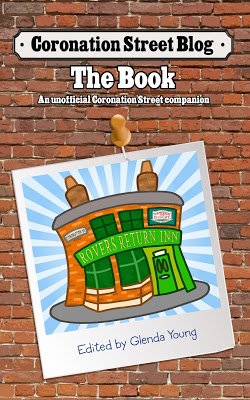 Please read
our advice for leaving comments on the Coronation Street Blog
All original work on Coronation Street Blog is covered by a
Creative Commons License