G
uest blog post from Sharon Boothroyd
Fancy writing a guest blog post for us?
All details here!
Sadly, we've learnt that the brilliant Ben Price (Nick Tisley) is striding out for the last time over the Corrie cobbles.
I hope they don't kill off his character
, because in my opinion, he's one of the best actors on the street.
In no particular order, here's a run down of my personal Corrie favourite actors:
JANE DANSON
(Leanne Battersby)
Jane played the rebel teen from a rough tough family with spark and energy. As the years have passed, Leanne's gradually mellowed. Flitting between Peter Barlow and Nick Tilsley, she became a businesswoman, a wife and a mum. Yet Jane has held on the unique energy and spark that makes Leanne a true survivor. Several years ago, I saw Jane on a TV Abba show. She's a fabulous singer too!
RICHARD HAWLEY
(Johnny Connor)
Richard is a highly skilled actor with a long list of TV credits to his name. His grumpy, gruff portrayal of Mr Connor senior is simply superb, as he battles with factory girls, clients, family and his health. There's his much younger flighty fiancee, Jenny to deal with too.
JACK P SHEPHERD
(David Platt)
Jack's brought a breath of fresh air to one of the street's well- established characters. David's a bit of a misery guts, but soap characters aren't supposed to be happy, are they? (If they are, they're not happy for very long). Jack's expertly taken David through the mill – from single fatherhood, criminal cover ups and evil plans, right through to the loss of bereavement. He's a young, cool dude dad with a wicked wit, yet David is still struggling to find his way in the world. I love his new doggy sidekick who shares his name!
DEBBIE RUSH
(Anna Windass)
Anna is a character that a lot of middle- aged woman can relate to. Deeply insecure and suffering from low self esteem, Anna does her utmost to provide for her family, yet sadly, she seems to lurch from one disaster to another. Anna lacks aspiration and has little ambition. A series of low- skilled temporary jobs bear this out – saying this, she's the friendly, welcoming face in Roy's cafe. Debbie is a natural fit for the role of Anna.
SALLY ANN MATTHEWS
(Jenny Bradley)
Brought in as the daughter of Rita's love interest, Jenny's now a hyped- up bridezilla, but this wasn't always the case. Jenny's experienced a series of complex problems. The character swings from bad to good, to bad again. It's a tough challenge, but Jenny is portrayed amazingly well by Sally.
CONNOR MCINTYRE
(Pat Phelan)
Connor plays the sadistic, selfish scouser to perfection. Pat has lied, conned folk and even killed. He's a nasty piece of work and Connor doesn't make us doubt it for a single second. Keep up the good work Connor!
CATHERINE TYLDESLEY
(Eva Price)
Glamorous and pretty, shopaholic Eva can be shallow and vain, yet she's also a good listener and incredibly kind. She values her female friendships, yet is keen to stand by her man. Like most single young woman in love, she longs for a big show- off wedding. I like Eva. I like her silly laugh and I'm on her side. The fact that I've become so involved is testament to Catherine's high level of acting ability.
So that completes my list of my favourite Corrie actors. Which actor is your favourite, and why?
G
uest blog post from Sharon Boothroyd
Please visit Sharon's short story e-anthology website.
Sales from this e-anthology will help raise money for the RSPCA.
It's at
www.ryecorn.orgfree.com
Fancy writing a guest blog post for us?
All details here!
Read more Corrie news and spoilers here
---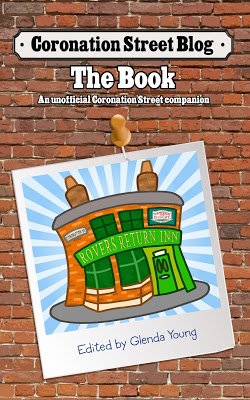 Please read
our advice for leaving comments on the Coronation Street Blog
All original work on Coronation Street Blog is covered by a
Creative Commons License