Reviewing Coronation Street on Wednesday the 24th of May felt an impossibility. It was a day when we continued to struggle to come to terms with Monday's horrific attack in Manchester Arena and its aftermath, and were heartbroken to learn that a much loved friend and fully fledged and fabulous member of the Corrie family, Martyn Hett, was among those who had tragically died as a result.
In the three years I had the unbridled pleasure of
experiencing
Martyn, for that's what you did, I was never stuck for words when it came to telling others why this fantastic human being who I had never met was everything. Yet, on Wednesday, words failed me as feelings took over. When I thought about it, this was rather fitting. It was, after all, how Martyn made everyone feel that was one of his greatest gifts.
He made me laugh. A lot. If I ever needed cheering up, I knew I could go to his Twitter profile; a treasure trove of hilarious, uplifting, cheeky, clever and joyous posts that were full of life, originality, energy, wit and, most importantly, Martyn's unique personality. Sometimes we chatted, other times I would simply read his latest offerings, grin like a Cheshire cat and laugh heaps. He was always there, living life to the full and loving it.
He had a big heart. If he enjoyed a blog you wrote, he'd tell you. When I posted a hopeful request for Corrie fans to complete a survey for my university course, he responded with characteristic enthusiasm. This, in fact, led to our first interaction on Twitter, something I'm so grateful for and a prime example of the power of Corrie to bring kindred spirits together over our love of the programme.
I watched Corrie late on Wednesday night, my sitting room like a cocoon as the familiar faces and stories flickered on screen. It wasn't until yesterday evening that I realised it was fulfilling a purpose that has been experienced by so many Corrie fans over the decades. As it travels with us through life, the programme acts as a constant, and a source of comfort, and this was much needed on Wednesday.
Martyn loved Coronation Street. His Deirdre Barlow tattoo, his cat Emily Bishop, and his hilarious creation, the Audrey Roberts Noise, will give you some indication of how much of a fan he was, and it was always a pleasure to read his insightful, passionate blogs on the show (all
here
). I think it's tremendous that a
bench on the set is to be dedicated to Martyn and all of those affected by this atrocity
, and I commend all at Coronation Street for such a beautiful gesture.
On Wednesday's Corrie, we saw Daniel's alibi fall apart, and Ken become convinced that he is responsible for pushing him on the basis that some trainers that jogged a memory were among Daniel's "stuff".
An emotional scene unfolded between Gina and Sally when the former confessed to trolling and harassing her sister, despite not remembering any of it which she put it down to her illness. Thankfully it's not long before Tim gets to the bottom of it, and Leah is unmasked as the true culprit while elsewhere, Peter and Toyah look set to be the next pair to run the Rovers.
Tonight's double Corrie will be on at the same time, and these stories will continue, but someone irreplaceable won't be here. We'll sit with our families, friends and loved ones – be they online or off – and we'll watch our constant companion together while remembering someone who loved it just as much, and will now forever share it with us in spirit.
I will always regret never having met Martyn in person, but I'm so grateful to have gotten to know him online. He suggested we "geek out to Corrie together over a gin" when we didn't manage to meet at the Mariah Carey concert in Manchester last year, and that I come to Manchester Pride to watch the Corrie float with him, but now neither of these things can ever happen and that makes me desperately sad.
My heart goes out to his friends, family and loved ones at what must be a horrendously difficult time for them. They must have felt so lucky to have him in their lives. It's only fitting to see the well deserved tributes pour in, including from his idol Mariah Carey. Imagining his reaction to that sums up these past few days for me - smiling at the thought of him, and feeling so very sad that he's gone.
Martyn has taught me many things. Love life, don't take it too seriously, be yourself, enjoy every single second, be happy, let your fabulousness shine, and seize the day - if you want to do something, what are you waiting for? This is his wonderful legacy, and the best tribute I can think of would be for us to live our lives to the fullest in memory of him.
The fact that people like me, who have never met him, are so heartbroken by his passing is a testament to the effect he had on every one of us. You enriched my life with your bright light, Martyn, and I'll be forever grateful to you.
I'm going to have that gin tonight when I watch Corrie, and raise a toast to our magnificent friend.
By Emma Hynes
See also
Corrie Fan Sites Pay Tribute to Martyn Hett
---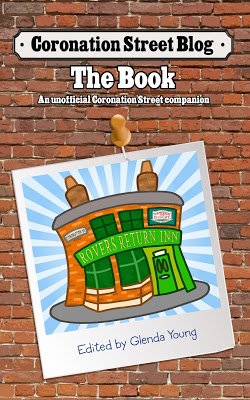 Please read
our advice for leaving comments on the Coronation Street Blog
All original work on Coronation Street Blog is covered by a
Creative Commons License