It's New Year's Eve on the cobbles, a time for celebrations, revelations, secret escapes and public farewells.
Mary certainly called it when she said it had been a whirlwind Christmas as she prepares to leave for a new life in South Africa with Jude and his pregnant wife. Having warned Jude to look after her, Norris continues to struggle with the departure of his friend. I despaired when Norris descended into a spiteful, sadly nasty individual during the year, believing he was better than that, and so it's a relief to see his good side shine through at last.
One of the highlights of the episode is a tender scene in the Rovers in which he grapples with the prospect of losing another dear friend after the departure of Emily. As Mary struggles to hear him, he says the line twice, thus evoking more sympathy. With a light delivery deliberately designed to belie the depth of what she's saying, she asks why he hasn't tried to talk her out of it, and in a similar way, Norris asks if she would want him to, and as they evade what they really want to say, it all comes to nothing. It's a beautiful dance between the pair, and one of their most moving scenes to date.
She also shares a very touching scene with Dev, and while the children make her a gift and beg her not to go, their recent antics have me thinking she's better off in that sense at least. For me, this storyline has moved all too quickly, but I'm very much enjoying the fact that we don't know if Mary is actually leaving.

Peter is caught on the back foot having learned from an angry Simon that his drone picked up footage of him kissing Toyah in the ginnel. As Simon sees it, it's proof that Peter came back for her, and not him. Instead of simply saying 'Toyah wasn't even here when I came back son, she followed me here, remember?' Peter fails to deny it, and Simon storms out, vowing to tell Leanne at the first opportunity. The verdict is out with regard to Peter and Toyah, as I'm not quite seeing the chemistry there which he had with Carla, Leanne and Tina, but it's early days yet, and maybe if their secret is revealed, we'll see more of it.

While we haven't had the (dis)pleasure of witnessing it first hand, it sounds as if life with Jenny and Gemma in Rita's is colourful to say the least, but Jenny has had enough and Johnny asks her to move in with him. As they plan to celebrate with champagne, however, he's called away in a last ditch attempt to save a valuable order in time for the New Year's sales. I very much enjoyed Jenny's reaction as she is told she must step into the breach and entertain Johnny's guests at this and future Victoria Court soirees. Head cocked and standing a little taller, it was a moment worthy of Sally Webster.

The sight of that Seb sets me on edge, and the part is being played brilliantly by Harry Visinoni. I'm surprised Anna let Faye stay at his place to ring in the New Year, and with Kevin also offside helping Johnny with his broken down van, Anna and Jack are alone when she falls down the stairs coming to help him with his drink. When he can't wake her, Jack walks out on to the street and we are treated to sad little boy close up number two of recent times as he looks up at the fireworks much in the way Liam blinked through tears with his Llandudno snowglobe. It's great to see both boys getting to put in these performances.
I loved the scene in which Eileen casually revealed over the counter in Roy's that Phelan is to get out of hospital that day, and reality independently and silently dawns on both Andy and Anna as they sit nursing cuppas.

Fear stricken Andy decides to move to Newcastle that very night, but is caught in the act of making arrangements by the man himself. Andy's panic is palpable as Phelan threatens him with death in the dark of the ginnel, and is clearly uncomfortable as he moves from the Rovers to the Bistro to continue partying with Steph, Luke and Tracy. Claiming to feel queasy, Andy makes his excuses but his loaded farewell to Steph has her feeling suspicious.
I loved the shot of her standing alone amid the revellers, and I thought the overhead angle as Phelan and Eileen simultaneously pulled party poppers in the Bistro was great, but, the music. As Andy departed in slow motion to the soundtrack of Christina Perri's Jar of Hearts, it then carried on over the above scenes, and an unconscious Anna lying at the bottom of the stairs, and it just didn't work. If I had been watching another programme I might have thought the combination of that song and the accompanying shots was evocative and nicely done, but this is Coronation Street, and it simply does not fit the programme. Every one of its actors, writers and directors is well capable of giving us poignant scenes without soundtracks; Corrie has been doing it for 56 years.
I recently wrote about the
importance of experimentation and innovation
, so I am not averse to change, but this is not a right fit. It jolts me out of the realism that has formed part of the very fabric of the programme since its inception, and if I had one Corrie wish for the New Year, it's that the inclusion of incidental music becomes a thing of the past.
As this is my last review of 2016, I wish you all peace, health, happiness and joy in 2017, and thank you, as ever, for reading.
Like us on Facebook | Follow us on Twitter | Download our free App | Visit Corrie.net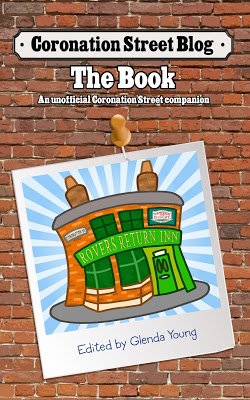 NEW! Coronation Street Blog - the book.
A must for all Corrie fans!
Please read
our advice for leaving comments on the Coronation Street Blog
All original work on the Coronation Street Blog is covered by a
Creative Commons License