Coronation Street fans know Wendi Peter best, of course, as Cilla Battersby. And as Cilla, we all knew how well Wendi could act the brash, brazen, shrieking, screaming harpy who was mum to Chesney and Fiz. What we didn't know about Wendi was how amazing she is to watch acting live on stage - and what a great singing voice she's got too.
Wendi stars as The Queen of Hearts in Frank Wildhorn's musical version of Alice in Wonderland. Wonderland started its European premiere in Edinburgh before embarking on a UK tour and I saw the show at Sunderland Empire last night.
The musical adapts the traditional Alice in Wonderland story and brings it bang up to date. It starts in a tower block with a divorced, single mum and a stroppy teenager. But it's not long before mother, daughter and a friendly neighbour called Jack slide down into the rabbit hole and into the familar Alice story we know.
Kerry Ellis as Alice
It's a real feel-good musical show and just what was needed on a chilly Monday night. There are some amazing scenery changes and some very funny laugh-out-loud set pieces.
Look out for the boy band, they're a scream...
Stephen Webb as Jack (centre)
... and the sexy caterpillar is worth noting too!
Kayi Ushe as the caterpillar
Sadly there are no production images of Wendi dressed in her costume as the Queen of Hearts and I would have loved to have blogged some of these because it's a costume and a half, a real show-stealer!
I had no idea that Wendi Peters could sing, never mind sing so well. She belted out her show tunes all the way to the circle and back again, but her voice had another quality to it that made it distinctive, better, not 'stagey' at all. I'd love to hear more of her singing, to be honest, and I can even see her in a stage play that's written just to show off her vocal talents, it really was something else.
As The Queen of Hearts, Wendi sang and danced her way through a couple of show-stopper numbers in the musical - all while eating jam tarts. I swear she must have got through about ten of them during the course of the show. She plays the comedy card to perfection and is well worth seeing on stage.
I always say that you never know what our favourite Corrie actors are capable of until you see them working outside of the confines of the cobbles. Not that I wouldn't welcome Wendi's Cilla back to Corrie at any time, she's sorely missed in our house.
Wonderland the Musical is a real feel-good treat and I highly recommend it. I came out of the theatre smiling more broadly than the Cheshire Cat and give it 5 stars.
Dave Willetts plays White Rabbit
WONDERLAND is on at the Sunderland Empire until Saturday 4 February 2017.
Buy your tickets for Sunderland here
.
The show then tours the UK and you
can see the tour schedule here
.
You can watch the preview trailer here:
Like us on Facebook | Follow us on Twitter | Download our free App | Visit Corrie.net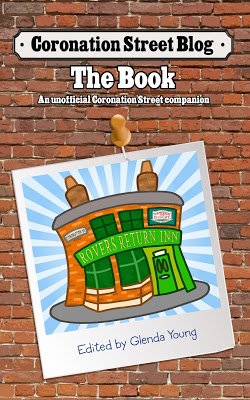 NEW! Coronation Street Blog - the book.
A must for all Corrie fans!
Please read
our advice for leaving comments on the Coronation Street Blog
All original work on the Coronation Street Blog is covered by a
Creative Commons License