By @PickledJo
From Jo Blakeley, Freelance Illustrator/Cartoonist. Loves Corrie, Star Wars and Thundercats.
Twitter: @PickledJo
@PickledJo
"I know Martyn wouldn't want us to mope. He would want to be celebrated. He was an entertainer. He lit up the internet and touched the lives of countless people bringing them laughter and joy with his wicked sense of humour. We were mutual fans of each other and worked together to make art gifts for his loved ones. Always of soap divas of course. The world is a duller place without his colourful personality. Goodbye Fabulous Martyn".
@CorrieArt
From Paul Lanagan, twitter: @CorrieArt
"I never met Martyn Hett but as a fan of ITV's Coronation Street it was impossible to not know who he was! He was an ever-present part of the Corrie fandom and renowned across the land for his Deirdre Barlow tattoo. Martyn famously compiled the 'Audrey Roberts Noise' video and I shall think of him whenever I see Sue Nicholls on screen. I have created an Audrey Roberts meme and will Tweet this (along with the hashtag #AudreyRobertsNoise) in memory of Martyn, who was tragically killed in the Manchester Arena bombing, whenever Audrey makes her famous "hmm?" on screen."
From Corriepedia
"We run a very dry site, albeit informative, about a programme that is fun to watch - and very, very funny! Martyn saw that side of it and his compilation of the Audrey sound was precisely the sort of thing that we fans should concentrate on - not plot-hole picking or negative things like that. His love for Deirdre and her character tropes was hilarious and a great example of how Corrie is loved rather than just liked. When funny, witty, energetic people like him sit down to view and comment, you know you're watching, to quote Grace Dent in The Guardian, "the greatest TV show on the planet". Martyn made the truth of that statement abundantly clear."
From Michael and Gemma at Conversation Street
"Like the rest of the Coronation Street fan community, we were left reeling at the news of Martyn's death this week. We're sorry to say that our paths never really crossed - either online or off - but we certainly knew of him by reputation! Corrie has always been known for its warmth and humour, never taking itself completely seriously, and as a fan, Martyn was the living embodiment of this. We remember the laughter he brought to the podcast when we reported on his two most iconic Corrie tributes - the keen-eyed mischievousness of his 'Audrey Roberts Noise' video and the boldness of his epic Deirdre tattoo - and from reading the numerous other tributes to him online this week, it's clear he lit up the lives of many, many others. We may never have met him, but as a Corrie enthusiast, Martyn was one of us - and his contribution to the fandom will forever live on in our hearts."
From Michael Adams at Corrie St Collection
"Well what can I say about Martyn? Not only did he make me laugh and smile week in and week out through his endless Coronation Street creations, but his sheer support for my posts here at the Coronation Street Blog, and for the Corrie Collection was immense. I often referenced him within my blog posts and I'd always get a little message thanking me for doing so, and to say he had added it to his reading list for the morning commute to work.
I would watch an episode of Corrie and wait for his response, whether it be a YouTube video (the rather risqué "Gail Mail" was my personal favourite), or simply just a tweet with a funny screenshot from the episode. When it came to launching Coronation Street: A Collection, we spoke at length about what memorabilia we both had and he was so envious that I owned the wedding jacket worn by "his" Deirdre.
Martyn was always posting on his social media pages, and through his popularity he gained some form of 'celebrity status' which meant no matter who you spoke to, they knew of Martyn or one of his creations - almost always it was the "Audrey Roberts Noise". I mean, who doesn't love that? Even Sue Nicholls herself was a fan. I am so thankful that we still have all of these videos, which serve as a reminder of what a fantastic, fabulous and iconic person Martyn was."
And finally, as editor of the Coronation Street Blog, I would like to say a a huge thank you to Martyn for his support of the Blog over many years. In 2016 Martyn wrote an article in the Manchester Evening News about ITV's Deirdre Barlow tribute book where he praised our Blog as "a place of worship for disciples of the cobbles".

Martyn guest-blogged about Corrie for us and if you'd like to, you can read his blog posts as follows:
We have lost a much loved member of the Coronation Street online family. I hope that Deirdre will be watching over him with a glass of red wine - and plenty of gossip too.
RIP Martyn Hett xx
And now, there's only one thing left to do... it's time for the Audrey Roberts Noise!
---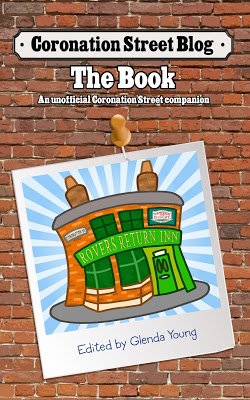 Please read
our advice for leaving comments on the Coronation Street Blog
All original work on Coronation Street Blog is covered by a
Creative Commons License