The last time we saw Denise Osbourne on Coronation Street was back in 2007 - and now she's back!
I travelled to Manchester last week to interview Denise Black, who returned tonight to the role of Daniel's mum, Denise Osbourne in Corrie.
Denise is one of my favourite actors and it was an absolute pleasure to meet her. Full of life with a throaty laugh and a good sense of humour, here's what she had to say about the return of Denise.
Denise says this about finding out she was coming back to Corrie: "The public seem to have known longer than I have that I was coming back!" she laughed. "Thank goodness they were right. I've never been in the eye of the media in that way. I was thinking 'Wow… what do they know and I don't?'"
However, she wouldn't be drawn into revealing how long she was back for.
When Denise knew she was returning to Corrie, she went back and looked at Denise's first Corrie appearances in the early 90s.
She says: "It was a different me. I could hardly recognise me, I thought 'God, I'm hot! What happened?', but the experience of life is different, I've gained a lot of experience in the interim years. I'm really proud to be part of it."
I asked her if Denise would be rekindling her romance with Ken, and again she had another good laugh. "He's looking good isn't he?" she said, before revealing that there's a lot of anger between them both to start with. Corrie producer Kate Oates said that Ken's furious with Denise at first, with a lot of blame and counterblame goin gon.
Denise with the trinket box in which she placed her own personal items
In scenes this week we saw Ken unearth a trinket box which belongs to Daniel's mum. Denise told us that she put a couple of personal items into the box.
"When I heard that there was a trinket box I put in Denise's ring from 1992, which was always mine and I took it away and it's back there. And also, a Corrie 35th anniversary gift went into the box. I also hung about with Rob Mallard (who plays Daniel) and stayed on his sofa and we learned lines so I know what he looks like first thing in the morning! History, that's what you're looking for in soap, so I'm very proud to be part of the Barlow history."
Denise says she's known all three actors who played Daniel. She explains that she felt it important to "graft straight onto Rob Mallard as an actor and we both approach acting the same way, worrying and obsessing and thinking. You know you're on it when you start to have your character's dreams! It worked, so Rob would be running lines with me, it's being able to learn the script and keep up to speed. That's why I think I couldn't have taken this job if I hadn't had Emmerdale before and survived."
Many fans will be wondering where Daniel's mum has been all of these years. Denise revealed her back story as follows: "She ran away, she was having a breakdown. I had to get my head around how Daniel was not hauled in by the social services and why, when she got better, did she not go back. I had to believe that was just fear. Obviously Daniel looks incredibly like his dad and she thought he would be better off without her. She has very, very low self esteem, poor old soul."
When Denise first came into the show she was written about as if she was a street siren in the Elsie Tanner mould, so what kind of woman is she now?
"Flawed," Denise says. "The brief I was given was that she speaks her mind, so she's front footed, not always right, she's a bit Marmite, you either love her or you hate her. If you are coping with the fact that you abandoned your son and look at the damage that it did I think she is going to be desperate to get it right now.
"If you look at the last time we saw Denise it was 10 years ago on screen, just three years before she abandoned Daniel. She wasn't in a great state then, she came back and pitched to Ken that they brought up Daniel together and Ken said no. That was the beginning of some kind of breakdown."
And what is it that brings her back into the show and Daniel's life?
"She's always had her key," Denis explains. "She returns to the country and sees her house up for sale. Also, the cops are interested in what happened to Denise after Daniel's taken in for questioning and Denise is listed as a missing person. Now she's a more interesting missing person, someone at work called her and said the police were asking questions about her. So when she saw the house up for sale, she thought it was now or never."
And fortunately for Ken tonight, Denise arrived just in the nick of time!
It was a real pleasure to meet Denise and to tell her after the press interviews how pleased I was to see her back in our favourite show.
Want a
potted history of Denise Osbourne in Corrie? It's here!
She's currently on stage at the Bolton Octagon Theatre in a play called Winter Hill, which runs until Saturday 3 June.
Buy tickets here
.
Denise Black's website is here.
You can follow her on twitter @DeniseBlackUK
https://twitter.com/deniseblackuk
You might also like to read
my interview with Rob Mallard who plays Daniel Osbourne
Read more Corrie news and spoilers here
---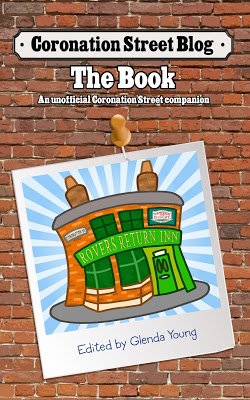 Please read
our advice for leaving comments on the Coronation Street Blog
All original work on Coronation Street Blog is covered by a
Creative Commons License