One of the ways in which we know that our favourite continuing drama is held in esteem, is when it gets referenced elsewhere. Like me, your Corriedar is probably finely tuned and any mention of the soap starts the alarm bells ringing and you're hooked.
This week, one of our all-time
Corrie
faves turned up somewhere else and in the oddest of circumstances. Hilda Ogden was front and foremost in an episode of BBC Radio 4's drama
The Archers
. For those not in the know,
The Archers
is the longest running continuing drama in the UK. Probably Europe. Maybe the world. Since 1951, listeners have enjoyed the goings on in the fictional village of Ambridge where all the poor people sound like Somerset yokels and all the rich people are barking orders out in
Downton Abbey
voices. This may, of course, be a slightly exaggerated synopsis. The everyday lives and loves of country folk, with added sound effects. Central to this story is elderly, somewhat right-wing ex-publican's wife Peggy Woolley who's been around since day one. She's Davros with a perm. Sadly, last week, Peggy discovered than her cat had been run over, predictably enough by a member of her own family. Having been rendered distraught for all of fifteen minutes, Peggy unveiled a replacement moggy - called Hilda Ogden!
Hilda Ogden (the cat) seems to be a nasty piece of work, taking aim at anyone who isn't Peggy, with a series of deft strokes with her claws and some high-pitched screeching (sounds familiar . . .). Is the BBC paying tribute to the Queen of Number 13?
The notion of referencing one ongoing drama in another used to be seen as a no-go area. Back in the 1980s, Channel 4's
Brookside
received a stern finger-wagging from Granada for having one of their characters, Karen Grant, arrange a trip to the
Corrie
set.
EastEnders
has referenced
Corrie
a couple of times. Bianca Butcher once yelled "who do you think I am, Hilda Ogden?" when she was asked to clean the bar in the Queen Vic. The show was also mentioned by Dot Cotton during
Corrie's
fiftieth anniversary week, when she dashed back from the pub to watch the goings on in Weatherfield.
To my knowledge,
Corrie
has never made mention of
EastEnders
or
Emmerdale
directly. Many years ago there was a lovely scene where Becky and Blanche had a discussion about
Prisoner Cell Block H
, Blanche having been likened to the wizened old lag Lizzie Birdsworth. There also the
Children in Need
special
East Street
which saw the cast in each other's territory.
Is it OK for one soap to refer to another or should each show exist in its own little universe, separated from the realities of TV? Would we laugh at Liz giggling about The Woolpack or Audrey commenting on Sharon Watts' hair extensions? For now though, we can comfort ourselves in the knowledge that 'Hilda Ogden' is alive and well in Ambridge.
Clinkers to Riddle on twitter: @bridglondon
---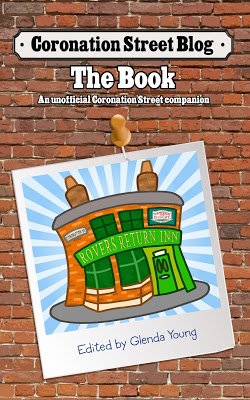 Please read
our advice for leaving comments on the Coronation Street Blog
All original work on Coronation Street Blog is covered by a
Creative Commons License