Here we are then, about to embark on a week of
Corrie
loveliness which will see us bid farewell, one way or another, to the Street's favourite owner of a bistro under a viaduct, Nicholas Paul Tilsley. Before you ask, no - or
NO
as the late Ivy Brennan might have bellowed - I have no insider information as to how he exists stage left. Does he sink in the sands of a northern resort? I don't know. Will Leanne strangle him with the belt from her M & S mac? Dunno. Does Ivy rise like the undead to claim little Nicky? We can but hope.
For the time being though, it's the end of a story that began at the end of 1980. A story regaled (as opposed to re-Gailed) by Ivy as the Second Coming. Unto Our Brian and 'that Gail', a son was born. Those with long memories may recall that the mite was going to be called David Daniel Tilsley until someone pointed out that the initials spelled out the name of a poison. Well, so far so good. Given that the Street's eventual David enjoyed pushing his mother down the stairs and the eventual Daniel entertained himself with a heavy tome and Ken's head, Nicholas was perhaps the safer option.
Little Nicky though was born to be a drama queen. Almost from day one it was all 'me me me' as he toddled off and caused panic amongst the residents, eventually being found by Eddie Yeats. In addition, the child had to cope with the attentions of a deranged grandmother (no, not Audrey - she was largely absentee at this stage), a father in love with his own reflection and the hapless Gail.
Little Nicky prospered though, despite the deaths of doting grandad Bert and Our Brian. Table-wiper Martin Platt was a much more responsible father figure and didn't spend his wages on perms and hair products. However, it was the now dead Ivy who sowed the seeds that resulted in today's sour mummy's boy of a Nick. She left Nicky number 5 in her will and so at the tender age of fifteen he took ownership, after callously dropping the name Platt and reverting to Tilsley. It wasn't a happy time. Nick became landlord to
DON
(remember, that name always has to be spat out in the style of Ivy) and much misery ensued.
1996 was a turbulent year for mummy's little soldier and after running away from home (to Torquay) he made it back to Weatherfield only to pack his bags and disappear to Canada. The fresh air and outdoor life obviously did him a world of good for he returned in 1997 with a lovely new head and six-pack that Blow-Dry Brian would have been proud of. He played fast and loose with the affections of Rough Spice, Leanne Battersby, and married her in 1998. What a joyous year for all concerned. Gail proved to be a loving mother-in-law to Leanne and the newlyweds floated on a sea of matrimonial bliss . . . he lied. Gail scowled from a corner, Nick stripped off to earn a few quid and showed his true colours by forcing his wife to have an abortion. Oh and then told everyone that she'd had a miscarriage. Quite rightly, Leanne dumped him and Nick sloped off to Canada again, possibly to devote more time to his Celine Dion collection.
Over the next few years, Nick appeared at dozens of his mother's weddings. He fitted in a bit of a dalliance with kennel maid turned crimper Maria, locked lips with Todd and didn't enjoy the experience, got a job at Underworld and ensured that Janice Battersby lost hers, before heading to Nottingham (Nottingham?) after Leanne had destroyed his love-in with Maria.
By the time we next caught up with Nick, he'd aged about thirty years and so began the cycle of misery that's lasted the best part of a decade. Another stint at Underworld, a business venture under the Viaduct that collapsed in more ways than one, another traipse up the aisle with Leanne, another trip to the divorce court with Leanne, a brain injury, an olive mountain, the ruination of hairdresser Natasha Blakeman, a one night stand with his brother's wife, a dalliance with the lovely Erica (what was she thinking) and then came the omnishambles of his time with Carla Connor. Throw toxic relationships with Peter Barlow, Leanne (again) and Steve MacDonald into the mix and you begin to appreciate why Nick peers at the world through squinty eyes. He looks worn out. His race is run.
If little Nicky does survive the murderous sands of Morecambe (other resorts are available) then let's hope we don't see him for a few more years. No character is more in need of a refresh than Nick. We look forward to his fourth regeneration.
By Clinkers to Riddle, on twitter at @bridglondon
---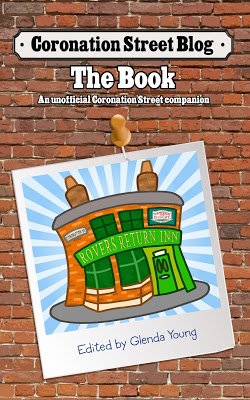 Please read
our advice for leaving comments on the Coronation Street Blog
All original work on Coronation Street Blog is covered by a
Creative Commons License