Tonight in Coronation Street, Aidan Connor throws a party to celebrate Underworld's anniversary.
After some helpful research on
Corrie.net
and
Corriepedia
, I've found out that there isn't just one reason to celebrate Underworld's anniversary, but two!
Underworld in 1997
First off, it's the 20th anniversary of the opening of Underworld.
In 1997 Mike Baldwin opened the Street's knicker factory in the building that had once been used as Steve McDonald's printworks,
Dun 2 A T.
Mike started making sportswear in his new factory after he secured a contract from Stephen Reid, Gail's brother and representative of the Canadian company Kbec. Don Brennan had a grudge against Mike and set fire to the factory - and up in went in smoke.
When it was rebuilt, Mike took out a contract with Angie Freeman to manufacture lingerie. In 2004 Janice Battersby dropped a cigarette onto a pile of clothes in the stockroom - and up it went in smoke.
In 2006 Mike Baldwin died on the steps of his factory, in Ken Barlow's arms.
Danny Baldwin stepped in to run the place until it was sold to Paul and Liam Connor.
And this is where the second anniversary comes in for the knicker factory.
It was 10 years ago that Paul and Liam Connor took over Underworld, the first of the Connors to run the place. Carla, as we know, ended up taking Paul's half of the factory after he was killed in a car crash. She wasted no time in making herself at home in Underworld. Carla and her brothers covered up the death of a Polish worker at the factory.
And if you'd like to read all about Carla's time at Underworld, from the very first moment she arrived waving champagne bottles around, through to being held hostage by Tony Gordon and escaping the inferno, it's all in
The Little Book of Carla Connor
.
In 2010, Tony Gordon ended up running Underworld - and up it went in smoke.
More drama ensued when John Stape buried a body there.
Frank Foster, Luke Strong, Rob Donovan, Rosie Webster and Peter Barlow have all held shares in Underworld through the years. Rosie lost her investment when Luke Strong did a runner with her cash.
And then in 2015 a new knicker king in the shape of Aidan Connor arrived.
Aidan invested his dad Johnny's money in the place and bought it from Carla when she left for Devon. Underworld has since seen some blossoming romances:
So here's to the future of our favourite knicker factory! May it always give us pleasure, drama, and... hang on a minute. It hasn't gone up in smoke for a while, has it? Oh no...!!
Read our blogger Tvor's post:
Factory of Death
Read more Corrie news and spoilers
---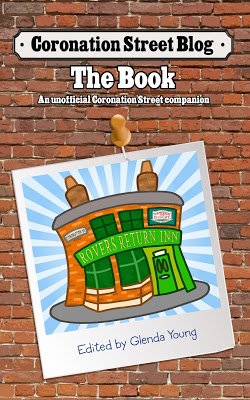 Please read
our advice for leaving comments on the Coronation Street Blog
All original work on Coronation Street Blog is covered by a
Creative Commons License