It's time to meet another Coronation Street fan of the week.
Would you like to be our Corrie fan of the week?
Find out more here!
Who are you and where are you from?
My name is Melissa. I'm from Michigan, United States. I'm lucky enough to live very near Canada so I get the Canadian feed of Corrie. Which means 1. I can never move and 2. I have a Canadian accent!
How long have you been watching Corrie?
I started watching Corrie right after Tracy killed Charlie. So about 10 years.
Who are your favourite female and male characters - and the reasons why?
I love Mary. She started out as odd, but has grown into this character who just might have all the secrets to life. I also loved Carla because who doesn't want to be that bad ass in the high heels with perfect hair? And Becky... goes without saying. I thought Tony Gordon was brilliant. He was evil, but a smart evil, and I also love a Scottish accent. Similarly, I enjoy Rob Donovan for being a bad boy. And the way he went from smug to broken when his sister cut into him...brilliant acting.

What's been some of your favourite Corrie storylines over the years?
I liked the Tony and Maria storyline because we knew the secret, yet it seemed like it might have a happy ending nonetheless. I liked, as much as you can, the David/Kylie/Sarah storyline with Callum's body in the mother-in-law suite. And when Kylie died I'm not sure whether she or David tore my heart out more. Same with the recent Michelle/Steve/Ruari story line. We all knew it would end poorly, but they pulled out all the stops to get there.
And what would your fantasy Corrie storyline be?
That Becky moves back nearby (not the Street) with her husband and child to help David raise his kids and that Shona turns out to be a good one and marries David.
Have you any snippets or news about meeting any of the Corrie cast, or trips to the set, etc., that you'd like to share?
I did recently fly to Manchester/Scotland to see the Corrie exhibition and at the hotel I stayed at I heard this very familiar voice with a very different accent...looked up...and it was Michelle Keegan. I about had a heart attack being starstruck!!
However, the most poignant moment happened when I was on The Smiths Tour with Craig Gill and he took us to The Salford Lads Club...at the corner of Coronation Street. Two of my pop culture holy grails in one morning. Bittersweet in that it was probably one of Craig's last tours. May he rest in peace.
Thank you for letting me apply for this very important position! I love your blog and the wonderful stories you post, Melissa
Would you like to be our Corrie fan of the week?
Find out more here!
Read more Corrie news and spoilers
---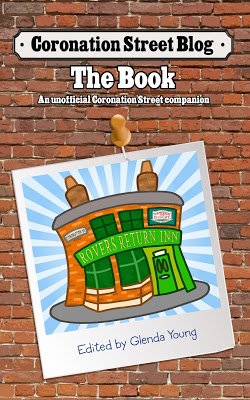 Please read
our advice for leaving comments on the Coronation Street Blog
All original work on Coronation Street Blog is covered by a
Creative Commons License