Apologies there was no Monday review last week. I was in Ireland, drinking in (Sean) Tully's Bar, eating at (Michelle O')Connor's restaurant and taking (Jerry) Morton's taxi.
Amy is still "missing" and Tracy's in the clink, which affects everyone from Steve to Mary to Michelle to Luke. Rob's car has broken down somewhere in the Peak District/Bolton area and Amy manages to get a confession out of him, that he is sorry for what he has done (and he's not the only one) and that Tracy is in chokey for the attempted murder of Ken. He gets a confession in return: that Amy didn't push Ken. She runs away from him, and is almost picked up by a dodgy feller in a car, but Rob comes to the rescue and drives her back to Weatherfield.
Ken, meanwhile, returns home for the first time since the attack. He seems suspicious of Tracy's motive and, indeed, guilt, saying that he wants to get to the truth. In a somewhat dramatic turn of events, Rob bursts into Tracy's plea hearing (how the flamin' heck did he know where she was?) to implore her not to plead guilty. She retracts her statement, but is locked up again for perverting the course of justice, and Rob is heading to solitary, not before they have final seven minutes of um, heaven, in Tracy's cell. Rather you than me, love. And we're no nearer to finding out who clobbered Ken.
The main drama doesn't affect Maria and Aidan. Shayne Ward may be
sick of being a sex symbol
, but Aidan's OK with it, having Eva purr over him and Maria slink off to the ginnel with him (if that gitty could talk....) David tells Maria that she can't share a bottle of wine with Eva if she's, um, intimate with Eva's fella and Maria decides to "unfriend" her, with entertaining results. Unfortunately, Eva is amused by Maria's rendition of her, so Maria changes her tack and insults Leanne, which leads to a cream horn to the face. It could have been worse; I bet Eva has got a belting right hook.
The factory girls and Sean buying 99s from the ice-cream van gives Rana an idea to cheer up Zeedan, who is in a grump after not getting a promotion at the Bistro - buying him a food truck. Nice to have the Nazirs back in a storyline that doesn't involve the £14K that Alya owes Dev.
Aunty Gina has disappeared and the delectable duo of Sophie and Rosie are determined to keep this from Sal. This seems like a bad plan to me; surely part of Sally's trauma was that a total stranger was so vile to her on the internet. If she knew it was someone with mental health problems, even if it were her own sister, wouldn't that make the situation easier to deal with? Anyway, Gina turns up to apologise to Sally, but Leah drags her away in her car. Sally goes to see her sis, but she has moved. This story still has legs and it's gonna run.
Rachel Stevenson -
personal blog
---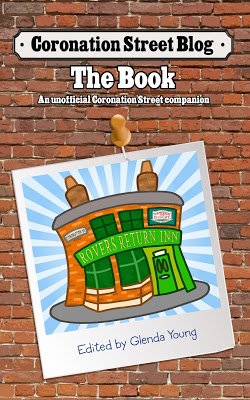 Please read
our advice for leaving comments on the Coronation Street Blog
All original work on Coronation Street Blog is covered by a
Creative Commons License