Happy Easter Monday, Corristas! Have you spent your day in the traditional way, i.e. sprawled on the sofa eating leftover chocolate?
Michelle and Robert are bank holiday lazy in bed but everyone else is busy busy busy. Mrs Kitchen is threatening to go on that TripAdvisor to give the salon a bad review after she is left waiting by David (man), so he hands over David (canine) and his house keys to Shona so she can take the pooch home. She picks up a pic of Kylie, helps herself to some cereal and then pokes around upstairs. Unfortunately, Gail and Sarah return and discuss how David tried to blow up the prison van holding Clayton. Shona reveals herself and threatens to tell Anna that the accident wasn't and storms off to get a very last minute visiting order to see her....son! Clayton! in Youth Offenders. She tries to explain her lax parenting but he tells her he wants nothing more to do with her. Back on the street, she reveals all to Gail: Clayton left Shona to live with his dosser dad and bad lad Macca and from them on, he was on the path to becoming a murderer. Gail tells her: Nobody sets out to raise a monster. Well, she should know. They strike a deal:- Shona won't tell anyone about David if Gail doesn't tell anyone about her. Well, not until David and Shona are dating, I presume.
Meanwhile, Rosie and Sophie have gone a-troll hunting. Rather than looking under a bridge, they follow their Weatherfield Gazette lead to a dodgy looking estate. They spy someone who was at the LGBTQI event and confront her, but she claims that it's her stepmum doing the trolling.
Webster Senior is trying to build bridges with Ty, offering to spend some of
David's
Anna's money on steak (10 oz) and chips. Fiz is tempted by the sticky toffee pudding and so there's a Webster-Windass/Dobbs-Stape reunion in the Bistro and some bridges are un-burnt (unlike the garage). Tim and Sally are supposed to join them, but Sally is anxious about going outside. Another one not wanting to be there is Fay(e), who has arranged with Phelan to go see Seb - in the same Young Offenders Institute as Clayton.
Maria must have come round to do a job lot chez Barlow as Adam, Daniel and Tracy have all had their hair cut. Adam's investigating Denise's whereabouts, whereas she is doing some mysterious errands. Luke inadvertently reveals to Adam that he wasn't with Tracy the whole evening that Ken was attacked and Adam changes the focus of his suspicions from Daniel to Aunty Tracy.
Michelle's only been acting manager for a day and she's already making personal calls in work time, being rude to customers (Leanne) and canoodling with the boss. Looks like she'll be as good a restaurant manager as she is a wedding planner.
Rachel Stevenson - on
twitter
---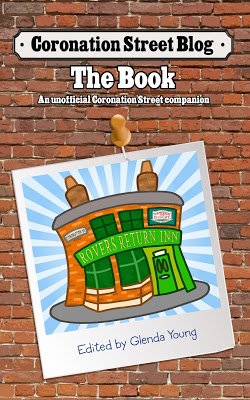 Please read
our advice for leaving comments on the Coronation Street Blog
All original work on Coronation Street Blog is covered by a
Creative Commons License