Corrie weekly updates from 1995
All the wit and warmth of Weatherfield
None of the waffle
Available from
amazon.co.uk
or
amazon.com
Evil Nathan pimps out Bethany to his mate Neil this week in some very uncomfortable scenes. Nathan gets Bethany to believe that she gave away expensive camera equipment belonging to Neil, and in return, to make amends, Nathan suggests she goes out for a drink with Neil. This Bethany does, but then Neil takes her into the bedroom at Nathan's flat and Nathan doesn't lift a finger to help, or to stop. Bethany's confused, she doesn't know what to do. Why hasn't Nathan helped her? Why hasn't Nathan, the man she loves, stopped Neil from dragging her into the bedroom at his flat?
Meanwhile, Sarah realises she needs to get Bethany back and goes to look at a flat next door to the community centre with Gary in the hope that Bethany will move back to the street. Bethany has a quiet word with Mary in the back room of the florist and Mary tells Sarah how upset Bethany is. But when Sarah rings Bethany, her phone is unanswered on the sofa in Nathan's flat as Bethany's in the bedroom with Neil. Horrible stuff indeed.
An ex-boyfriend of Billy's arrives this week and Todd's not best pleased. He feels threatened, especially when the fella called Drew asks to see Billy for dinner, sans Todd. And then Todd overhears Drew on his phone talking about him… "Seems a bit of a lightweight," Drew says about Todd. "Still lives with his mum!" But then Todd and Billy are in for a shock when Drew reveals that he's come to Weatherfield to seek out Billy because he's dying. Drew's got cancer, he reveals, and asks Billy to consider taking on Drew's 12 year old daughter, Summer, whom Billy is godfather to.
Tracy goes on the run with Rob this week. She bundles him into the boot of her car and bundles Amy into the front. Amy doesn't know Rob's in the back of the car and it's only when Tracy's pulling the bonnet down over Rob's head that he realises Amy's in the car too. It's all a bit daft this storyline, and with Tracy and Rob having a bit of how's-your-father in the Victoria Court Gym no doubt there'll be a Barlow baby on the way for Christmas. Am I the only one finding Rob a bit dull?
Over at the Rovers, after a quiz night in the pub, Cathy and Brian almost – but not quite – share a kiss on the cobbles.
Across town, Rosie tracks down Leah whom she thinks is stalking Sophie. But when Rosie sees who Leah is with, she's even more shocked – it's Sally's sister Gina Seddon. Leah blames Gina for stalking Sally and says that Gina felt betrayed when Sally cut her out of her life. This confuses Rosie's pretty little head so she tells Sophie when she gets home and the two of them try to work out what on earth to do.
And finally this week, divorce papers arrive for Steve.
And that's just about that for this week.
Remember, you can sign up to get these Corrie weekly updates by email at
http://www.corrie.net/updates/weekly/subscribe.htm

This week's writers were Carmel Morgan and Ella Greenhill (Monday double); Ben Tagoe (Wednesday); Jan McVerry (Friday double). Find out all about the Coronation Street writing team at
http://coronationstreetupdates.blogspot.com/2008/11/exclusive-all-current-corrie-writers.html
Glenda Young
--
Blogging away merrily at
http://flamingnora.blogspot.com
Website:
glendayoungbooks.com
---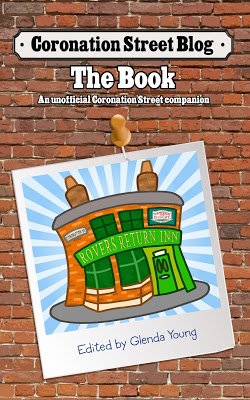 Please read
our advice for leaving comments on the Coronation Street Blog
All original work on Coronation Street Blog is covered by a
Creative Commons License