Now that Amy's a suspect (in Tracy's eyes at least) I have to rescind my theory that it's Ms Barlow-McDonald who dunnit and have to
agree that the culprit is either Crazy Chloe or Sinister Seb
. Probably the former, as Seb's already in the small house (Youth Offenders). Tracy has a busy day, visiting Rob in the ex-gym, bringing him a radio and a Scotch egg and telling him that they could have had a wonderful life together. Hmm. Tracy seems to have forgotten that Rob bludgeoned Tina to death after Tina threatened to dob him and Tracy into the police for selling knock-off goods in Barlow's Buys - it seems unlikely that happy ever after was gonna happen. Tracy finds the violin money in Amy's old teddy and this upsets her so much that she runs back to the gym to snog Rob's face off. Wasn't she complaining about his bad breath in the last ep? But anyway, it was a good enough bunk-up to convince Tracy that she and Amy ought to go on the lam with Rob.
Adam, in the meantime, tells DI McKinnon and DS Other Copper that he was in the house on the night of Ken's attack to pick up the money that Amy had left for him. They seem somewhat incredulous, especially when Adam starts re-pointing the finger at our Trace. But believing that Adam is guilty, Ken starts to mend bridges with his errant offspring, starting with Daniel, who tells him about Sinead's "miscarriage".
Billy's ex, Drew, turns up and reveals that his daughter, Summer, is Billy's god-daughter, that he, Drew, is moving to Weatherfield and that he was allegedly the love of Billy's life, all of which makes the Toddster quite jealous.
Gary and Sarah crash the tanning party, where Evil Nathan is reassuring Nasty Neil that Bethany will soon be "ready". Bleurgh. Things escalate quickly and Gary punches Nathan in the chops. Not a moment too soon, but it leads to Bethany being bundled upstairs, Gary and Sarah being kicked out of the salon, and another wedge being driven between Sarah and her daughter.
Toyah is still in a strop about the IVF and the non-kiss-kiss with Chloe. Peter wants to put the embryos on ice, literally, until his name is cleared but Toyah is hearing that tick tick tick of the biological clock and goes ahead with the embryo implantation. Toyah's always been impetuous, but this is a terrible plan.
And in the comedy storyline, The Devstars (Prima Doner) face off against All Sewn Up (Underworld) in the Rovers quiz, with Prima Doner winning, despite Gemma getting confused between JFK's assassination in Dallas and JR being shot in, erm, Dallas, and Cathy claiming that Shakespeare was still alive in Georgian times during the tie-breaker. It turns out that Brian threw the quiz for Cathy's sake, and he is rewarded with a kiss. Almost.
---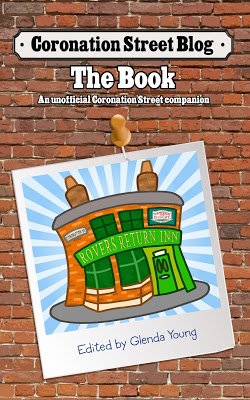 Please read
our advice for leaving comments on the Coronation Street Blog
All original work on Coronation Street Blog is covered by a
Creative Commons License