Guest blog post from Coronation Street fan Ryan Oxley.
Find out more about Ryan here.
The current Corrie storyline of evil Nathan Curtis and his grooming of Bethany, has been revered and abhorred in equal measure. A storyline praised for raising awareness of a serious social issue within modern Britain, it has raised debate in column inches & TV debate, without leering towards unneeded sensationalism.
This is in part, down to the brilliant casting of Lucy Fallon (Bethany Platt), Sonia Ibrahim (Mel Maguire) and Chris Harper (Nathan Curtis). The latter is an actor I have admired for quite some time. Chris plays Nathan so wretchedly that I find him hard NOT to watch, a fantastic character actor that I have seen on stage in the past.
As a 'born n bred Sheffielder', I can tell you that our city is famous for steel, its music, and our theatres. As soon as Chris Harper first came on our Corrie screens, I recognised that voice. Although now clean shaven and smartly dressed, he is unrecognisable to the voice I had previously heard. You see, Chris Harper played a small part in 1970s Manchester based, time travel cop show 'Life on Mars' and he wore a beard and glasses! I digress, but it remains relevant. I remembered the actor from a play I saw at Sheffield's Crucible Theatre in 2012.
Chris Harper in a Shakespeare play
As a twitter fan (that's where I found this blog), I had RT'd and won 2 tickets to see a play for free at the crucible studio, the salaciously titled 'The Village Bike'. A dubious title for a play, and you'd be right in thinking so.
A play that was best described as being of an 'adult nature', it explored the adult side of monogamy in married life, pregnancy and attitudes to child rearing. The play is steeped in farcical humour and characters, but also sexual activity, which is described as 'the best possible taste, but with absolute clarity' (the full review here
http://www.britishtheatreguide.info/reviews/the-village-bik-crucible-studio-8050
)
Chris Harper played the straight-laced John, the father to be, who feels that a country life would be best to raise their child, his rather insatiable wife Becky (Amy Cudden) disagrees and struggles with the whole concept of this life affirming event. As the story is told, Becky slowly becomes 'the bike' and essentially a metaphor, as the play reaches its darker conclusion in its second half.
As a theatre goer for several years, this play sticks out in my mind. Partly due to its sheer brilliance, (from writer Penelope Skinner and Jonathan Humphreys directing). I distinctly and with clarity, remember Chris Harper's performance. So much so, that five years later when Nathan Curtis arrived on the street, the memory came flooding back. It was that good, I saved the ticket (see above image).
We now know that inevitably
Nathan Curtis will be leaving the street
(hopefully in the back of a police car) and this incredibly difficult storyline will end. In my opinion, I would still like to praise Chris Harper for portraying one of the worst Corrie villains EVER - with such sneering venom, conniving menace and fierce aplomb.
That said, I think he's a fantastic actor! I wish him all the best in future work. Chris Harper also received praise on BBC Radio Sheffield this week. It's an issue that has recently been highlighted in our city, an insidious issue, but recognition where it's deserved.
I recently watched 'The History Boys' by Alan Bennett which stars Georgia Taylor (Toyah Battersby) and last night I watched 'Raining Stones' by Ken Loach, starring Bruce Jones (Les Battersby).
What's been the best TV show, stage play or film with ex or current Corrie stars in it that you've seen? e
Ryan B Oxley
NEW MUSIC DJ
@rybazoxo
NEW MUSIC BLOG
Read more Corrie news and spoilers
---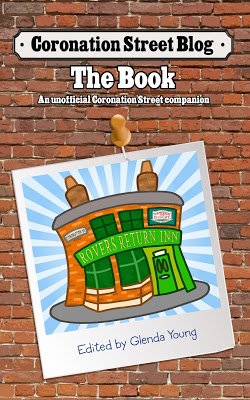 Please read
our advice for leaving comments on the Coronation Street Blog
All original work on Coronation Street Blog is covered by a
Creative Commons License