Out of the Mouths of babes:
Amy really gave Rob a reality check, calling him a loser and a coward and rattling his cage well and truly.
Confession is good for the soul:
Rob confessed to being with Tracy and Tracy retracted her confession about Ken.
Soap Law #431:
7 minutes in a cell with Rob. Hands up how many of you think Tracy's going to be up the duff?
Throwback award:
Jenny mentioned the fact that Gina used to flirt with Kevin back in the day.
Musical Ambience:
"Help me Make it Through the Night" in the Kabin while David was hoping that Clayton died of his injuries.
Rock Bottom award:
Nick has gone from the rocky ground of insecurity to the mucky pits of paranoia over Steve.
Lines of the week:
Detective Inspector "You'd have to be an idiot to leave your daughter with a convicted murderer who's on the run from some pretty nasty people" (Have you met Tracy?)
Audrey to Sally "How are you? Gail told me about your gremlins" David "It's trolls, Gran"
Sean "To flake or not to flake, that is the question" (Ice cream, that is)
Sophie worries about genes (re: Gina's illness) Rosie "What's jeans got to do with it?"
Ken "If Tracy didn't attack me, who did?" (I think every single one of the suspects is going to be arrested at this rate. Rubbish cops)
Rosie "Why don't houses have windscreen wipers?"
Mary about Sean "That lo down knicker stitching cheat!!!!"
Daniel to Sinead "Is this a random existential crisis or are you on about something specific"
Sally "Bipolar...Reminds me of the time I had to start saying 'lesbian' without feeling weird"
David to Nick "You need to get a grip or you'll lose. Trust me"
---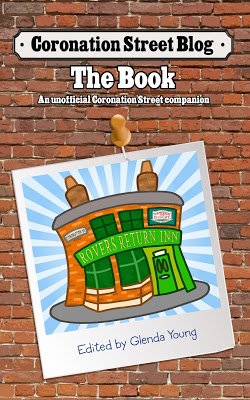 Please read
our advice for leaving comments on the Coronation Street Blog
All original work on Coronation Street Blog is covered by a
Creative Commons License