Coronation Street's Jonny Grimshaw has worked on our favourite soap for 10 years. You'll have seen him loads of times, but perhaps you don't know who he is?
Well, Jonny is one of the extras, or background artists as they're properly known, on the show. And as his 10th year working on Corrie was celebrated this week, it's time to turn the spotlight on to Jonny Grimshaw himself.
Jonny says he loves his work as an extra on Corrie: "When I get a call, I say it's like an injection of endorphins into my brain. I have been doing this type of work) for almost 20 years, and I can't fault it at all. It's interesting, exciting and great fun and I consider myself very lucky to work doing something I enjoy. All the other extras are lovely and I've met many like-minded people and made some good friends over the years.
"I say to people 'if you don't blink during an episode, then you might see me!'
Jonny Grimshaw as a wedding guest at Carla and Nick's wedding.
And he's even got the perfect Corrie surname! "People do actually ask if I'm related to Eileen and Jason," he says. " Considering it's such a northern name I am surprised how little it featured in the show before Eileen's clan moved in."
But how did he end up in Corrie as an extra? Jonny says that after leaving University, he enrolled on a drama course in Liverpool, and from there went on to be a tour guide at both Granada Studios (and the more recent Coronation Street Tour run by the Continuum Group) Then, he started to work regularly as an extra - sometimes being on both street sets on the same day, as both tour guide an extra!
Jonny Grimshaw as a mourner at Deirdre's funeral
He says: "Working as a tour guide was brilliant fun. I remember feeling settled in that job within two days of starting. It was such a fun time, and I still see former colleagues in other areas either in front or behind the camera all these years later."
One experience Jonny is not likely to forget on Corrie is when he was a contestant in the Mr Gay Weatherfield contest!
"I was stood on the stage set in just my boxer shorts and the drag queen DJ referred to me as having 'a backside like a landslide', to which I had to respond with a dirty look. This is in front of the cast, all the crew and about 90 extras. I remember thinking if I can do that I can do anything! The part of the scene with me was cut, a fact that I'm probably ultimately grateful for, although initially disappointed"
And he's even worked as a body double for Steve McDonald in one episode of Coronation Street when Simon Gregson was off work poorly.
Follow Jonny on Twitter @jonnygforce
Read the original interview and see lots of pics of Jonny in Corrie.
Read more Corrie news and spoilers
---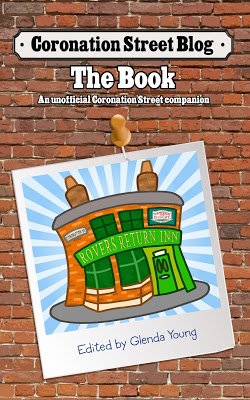 Please read
our advice for leaving comments on the Coronation Street Blog
All original work on Coronation Street Blog is covered by a
Creative Commons License