Corrie weekly updates from 1995
All the wit and warmth of Weatherfield
None of the waffle
Available from

amazon.co.uk

or

amazon.com
The big question on everyone's lips is Who Pushed Ken? Yes, King Ken of Chez Barlow was shoved down the stairs at No. 1 Coronation Street in an attack that the cops are calling attempted murder. But who would want to kill of Ken – and why? The suspects are lined up and called in for questioning. The Barlow household becomes the focal point of the street but for all the wrong reasons. I'm loving this storyline and I have my suspicions as to who pushed Ken. I reckon it was young Seb, Faye's troubled boyfriend. We already know that he's a thief and tried to nick cash from Ken's place before Phelan caught him. And we know that he's capable of violence too, having beaten up Jackson. Perhaps Seb was stealing more cash from Ken's when he was intercepted and Seb pushed him down the stairs? Just my opinion, of course.
The cops quiz and release Phelan after Todd provides them with a video alibi showing Phelan in Luke's flat at the time of the attack. But still under suspicion and quizzed by the cops are Tracy, Daniel, Adam and Peter. Sinead's looking shifty too, after she lied about having a miscarriage to Daniel and the truth is now out about her abortion.
Both Peter and Tracy argued with Ken this week, putting them both in the frame for the attack on Big Barlow. Tracy's argument came after she heard Ken telling Sinead how unhappy his life with Deirdre had made him and how he didn't want her holding back Daniel, as Deirdre had held him back once.
And Peter, oh, Peter's argument came when threatened Chloe to leave him alone and she turned up in the ginnel, crying. Ken found the distressed woman when he was out walking Eccles after he saw Peter push Chloe away. Ken takes Chloe back to No. 1 for a cuppa and she lies about how Peter's back on the booze (he's not) and how they've been having an affair for ages (they haven't). Ken, pompous as you like, takes it upon himself to break this news to Toyah and when Peter finds out he's not best pleased, as you can imagine. In fact, so incensed is Peter that he takes a bottle of whisky from the Rovers and heads home to the flat. Tormented by his drink demons, Peter lifts the bottle to his lips but doesn't touch a drop, he smashes the bottle to the floor instead.
Toyah reels from the news that Peter's back on the booze and the birds when he's neither, although yes, he's been tempted by both. She rings her ex-husband Toby for a shoulder to cry on and he tells her they're done, he wants nothing more to do with her, and rightly so, too.
Elsewhere this week, Kev's got money worries at the garage and Rosie thinks she knows how to solve them. She tells Sophie that she can get a glamour modelling job to pay off Kev's debts but Sophie's against her sister doing this and tells Kev the truth. "I don't want you parading around in your bra and pants!" dad tells daughter. A nation breathed a sigh of relief that we won't have to suffer another Pop My Cherry moment from Rosie Webster.
Meanwhile, there's heart breaking news for Sally when she gets a call from the hospital to say that her breast cancer has returned. It hasn't… it's a very cruel and a nasty hoax played by an online troll who targets Sally after she's interviewed on Radio Weatherfield about the mastectomy bra line she's promoting at Underworld. It's a horrible storyline for Sally to have to go through. Tim wants to tell the cops and tells Sally she should delete her social media accounts.
Cathy and Brian go on a date this week but Brian lies to Roy and tells his flatmate that he's going to a talk on carbon emissions instead. Roy can't understand why Brian won't let him go with him to the talk, which Roy says he would've found fascinating. The morning after the theatre, it's Cathy who tells Roy that she and Brian had been out on a date. When Roy finds out the truth he's upset that Brian lied to him, but he's happy for Brian and Cathy to date.
And finally this week, Fiz finds her magic masseur fingers and rubs chip oil into Tyrone's back.
And that's just about that for this week.
Remember, you can sign up to get these Corrie weekly updates by email at
http://www.corrie.net/updates/weekly/subscribe.htm
This week's writers were Jayne Hollinson and Jan McVerry (Monday double); Martin Allen (Wednesday); Joe Turner (Friday double). Find out all about the Coronation Street writing team at
http://coronationstreetupdates.blogspot.com/2008/11/exclusive-all-current-corrie-writers.html
Glenda Young
--
Blogging away merrily at
http://flamingnora.blogspot.com
Website:
glendayoungbooks.com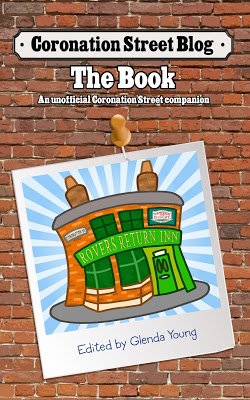 Please read
our advice for leaving comments on the Coronation Street Blog
All original work on Coronation Street Blog is covered by a
Creative Commons License