Vicky Entwistle, who played Coronation Street's Janice Battersby, is starring on stage in East is East this spring. She's on stage in the play at Northern Stage in Newcastle and we'll be going along to review the play later this month.
Here, Vicky tells us what she's been up to since leaving Corrie and talks about her role in East is East.
What have you been up to since Corrie?
I did Les Misérables in the West End and The Vagina Monologues, which I had turned down twice because I thought I'd be too embarrassed, but it's probably one of the best things I've ever done. I played the lead in The Rise And Fall Of Little Voice which was another big challenge for me. When I left Coronation Street I decided that if I was going to leave a regular income, people I knew and somewhere I felt safe, I was going to have to make it worth my while and only take on jobs that push me out of my comfort zone. That's what I've done. Playing Ella is the same; I'm learning about Asian culture and what it's like to be part of a multicultural family.
What were rehearsals like for East is East?
It was all quite manic. The family has so much banter because they spend every waking hour together and live on top of each other in a tiny terrace. They know each other inside out so I really had to pay attention to the details and all the little things that go unsaid. The kids love their mother which is great for me because I got loads of cuddles during rehearsals.
Was Kammy [who plays George] left out?
Yeah, I felt a bit sorry for him because the kids all gravitate together and George is out on his own. He's such a strict disciplinarian so you're a bit frightened to get too close to him. Ella disciplines the kids too though and they get the odd clip around the ear. She's strict with them in public because she wants her children to be seen as respectful and well-behaved to outsiders who might give them a hard time.
What's with calling Sajit 'cock'?
Cock is a real northern Lancashire expression. Back in the 1970's cock was a term of endearment, like darling or love. When I was first approached to play Ella I wondered whether I'd have to adopt a specific Salford accent but when I did my research I realised that the Manchester/Salford accent has evolved. Back then it had much softer Lancashire tones so I could use my natural voice more.
What's your favourite line of Ella's?
"He's not going to hell because he's got a foreskin". That's funny. George is saying Sajit's going to hell but Ella thinks it's funny because he's trying to scare the young lad to death when it's not important to her. Ella is careful to pick her battles with George. He's difficult to live with but she loves him. She only fights when it's something really important to her, otherwise they would argue every day because they're so different.
How are you enjoying your time in the North East?
I love it. Everyone's so friendly and the shops are amazing. My husband doesn't like it so much because I've got a credit card! We've been to the Botanist and the Head of Steam and I love it down by the Quayside, it's really swish. I live in the countryside and there's only one shop but there's so much choice here; I'm like a kid in a sweetshop.
See East is East at Northern Stage in Newcastle from April 18 to May 13 -
book tickets here.
---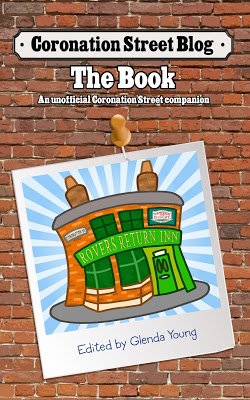 Please read
our advice for leaving comments on the Coronation Street Blog
All original work on Coronation Street Blog is covered by a
Creative Commons License