Sally's bouncing back with her interview with Cheshire Haven, which pleases Rosie is as she thinks her mum may soon be a B-lister. Tim was once almost interviewed by Chamois World, so he isn't interested in the Cheshire set magazines, and he's even less impressed when he finds out Sally hasn't deleted her twitter account. However, it's old media that gets her when she reads an obit in the Gazette claiming that she has died from cancer. Alone in the factory, abusive messages on her phone, Sally sits terrified and in tears, unable to leave the factory to go to her magazine interview because the troll is "watching her". Worse is to come when she opens up a box addressed to her to find a pig's heart. Tim and Sophie find her and he vows to get even with the nasty pieces of work. Unfortunately, he goes too far and starts bullying Sally into leaving the council.
Peter thinks it's better to take a minor assault charge if it gets him off being a suspect in the Who Clobbered Ken Case. Wasn't that Maria's thought re: her fake marriage to Pablo vs killing Caz? Brian is trying to get rid of Ken from Roy's flat, suggesting that Peter's arrest is a good thing as it will allow Ken to go back home with the offspring who
didn't
try to hill him. When that doesn't work, he starts taking about sheltered housing. Meanwhile, Peter finds out that Chloe has lied to the police, not only about the "assault", but also about the day it (didn't) happen. Toyah, unaware that her boyfriend is at the cop-shop, turns up to her IVF appointment with one thing missing (Peter's, erm, sample).
David and Maria are still giggling and messing about in order to dupe Gail. David, the king of wind-ups, has bigger plans, namely to announce that Maria is expecting a mini-Platt and that they're getting married (!) David, ever perceptive, notices that Maria and Aidan are tense with each other in the pub and wheedles it out of Maria that she and Aidan had a fling. David must get his insightfulness from his Gran, as she has worked out that they are having Gail on. Gail gets her revenge, claiming she's told Martin, Max, Lily about the upcoming nuptials, and brings 'round her 1980s wedding dress, forcing David to admit that it was all lolz.
The walking wet weekend that is Anna sells off some of her clothes to help with Kev's debts. Later, Freddie announces his intention to retire from the garage, which should help more than Anna's Matalan cast-offs, but Kev rejects his offer.
Craig talks about what he's learning in his Special Constable training, including hearing about a police van that crashed near Hull, leading to a prisoner escaping. Could this lead to the
return of a former series regular
?
Bethany, pretending she's lost her make-up brushes, calls round at the tanning salon and begs Nathan to take her back. Oh, Bethany.
And Steve finds out that Michelle has a new squeeze. I'm calling rebound!
Rachel Stevenson - on
twitter
---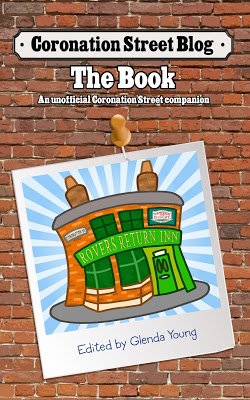 Please read
our advice for leaving comments on the Coronation Street Blog
All original work on Coronation Street Blog is covered by a
Creative Commons License