Corrie weekly updates from 1995
All the wit and warmth of Weatherfield
None of the waffle

Available from

amazon.co.uk

or

amazon.com
It's another heart breaking week for Steve and Michelle. Michelle's grief is compounded when her body reminds her that she was preparing for birth and she starts to lactate. Steve takes her out for lunch to the Bistro but she isn't ready, not yet, and she gets very drunk. After a stand-up slanging match with everyone in the Bistro, Michelle staggers out into the night and disappears. Back at the Rovers, a search party goes out to look for missing Michelle and it's Robert who finds her, high up on a bridge over the viaduct.
Michelle's ready to jump, to end it all and kill her grief and it's Robert who saves her, talking her back into safety. In the state that she's in, Michelle moves in for a kiss from Robert, but he has the decency to back off, knowing she's in turmoil. The two of them walk through the night together, to the chapel of rest, where Ruari's funeral is due to take place the next day. Steve and Michelle want to be alone at the funeral and Liz's pain is clear to see. "I wanted to say goodbye to him too," she tells Leanne with tears in her eyes. In the back yard of the Rovers, Liz plants a rose bush in memory to her grandson, as Michelle and Steve walk out of the chapel of rest underneath a rainbow in the sky. It was such a wonderful episode, sad and hopeful all at the same time.
While Steve and Michelle are out at the funeral, Liz takes delivery of a Moses basket for the baby that she'd ordered some time ago. Liz offers it to Leanne, who accepts it, but then in walks Nick with the same basket for their baby. This causes a whole stream of arguments between Nick and Leanne, as he reckons Liz will be after their baby now she's lost one grandchild. Leanne tells Toyah what's happened and reveals all about Steve being her baby's dad.
Nick's furious with Liz and the whole baby situation and he plans to move away to Edinburgh with Leanne and Simon. He confides all this to Toyah when she catches him online in the Bistro looking at schools to move Simon to. Well, Toyah then tells Peter that Nick's planning to move and take Simon with him. Peter's straight round to give Nick what-for and Nick thinks he's got the upper hand until Peter tells him he knows that Steve's Leanne's baby's dad, not him. Peter warns Nick that if he tries anything underhand again with Simon, he'll let that secret slip on the Street. Meanwhile, Steve and Michelle head to Ireland to stay with mammy and daddy Connor.
Elsewhere this week, Cathy starts work in the kebab shop after Gemma offers her a job without Dev's knowledge. When Dev finds out he has the usual hissy fit but then offers Cathy part-time hours in the kebab shop and part-time hours in the corner shop as Erica's gone to look after her mum.
Upstairs in Roy's flat, Brian moves in after an altercation with Norris over his house rules. Roy isn't best pleased about this, at first, and tells Brian he wants him to move out as soon as he's found somewhere else to live. But once Brian settles in and cooks Roy his famous spaghetti bolognaise with the Packham Punch sauce, Roy tells him he can stay as his tenant. In a wonderful scene, Brian greets this news with a smile and newspaper under his arm as he undoes his flies in Roy's kitchen and heads to the loo. This could be a lot of fun.
Phelan tells Luke there's been a flood in the flat. This gives Phelan enough time to clean Andy's blood from the flat carpet but when it takes some cleaning up, Phelan floods the flat instead and rips the carpet up. Eileen's not happy that her new husband is spending so much time working rather than concentrating on her, but Phelan's got things to do, people to see, murder to commit. He's a busy man, Eileen.
Ken tells the Barlow clan that if he has another stroke he wants a Do Not Resuscitate order put in place. This is news that depresses them all but they accept Ken's wishes. Meanwhile, Adam talks Alya into giving him the Underworld keys and password so that he can check through the files to see if there's any trace of any paperwork that says he's still entitled to his share of the knicker empire. While Adam's in the office trying to crack the computer system, in walk Johnny and Aidan. Adam's been set up by Alya and Aidan gives Adam a legal notice to sign over any rights in the factory for the princely sum of £1. Adam's skint, and when Daniel pays him his share of the rent money he pockets it instead of paying it to Dev. When Dev comes knocking for the rent, Adam fobs him off and then sets his sights on Ken and his will.
Finally this week it was Izzy's birthday and the factory girls celebrate in the pub. It was also Tracy Barlow's 40th birthday but only Luke and Daniel turn up for her birthday lunch in the Bistro. There's a new waitress at the Bistro, a young woman called Nancy who recognises Luke. There's history between them and Nancy ends up getting sacked when Tracy makes a lunge for Nancy and the two women scrap. There were lovely scenes between Tracy and Luke as the two of them decide they quite like each other after all, despite Tracy coming clean about having murdered in the past. Ah well, it takes all sorts I suppose.
And that's just about that for this week.
Remember, you can sign up to get these Corrie weekly updates by emai
l at
http://www.corrie.net/updates/weekly/subscribe.htm
This week's writers were Ellen Taylor (Monday double); Jayne Hollinson (Wednesday); Mark Burt (Friday double). Find out all about the Coronation Street writing team at
http://coronationstreetupdates.blogspot.com/2008/11/exclusive-all-current-corrie-writers.html
Glenda Young
--
Blogging away merrily at
http://flamingnora.blogspot.com
Website:
glendayoungbooks.com
Like us on Facebook | Follow us on Twitter | Download our free App | Visit Corrie.net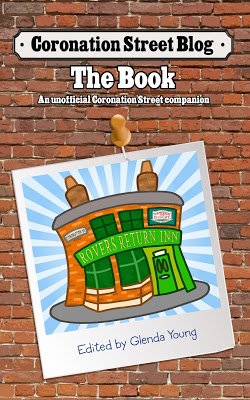 NEW! Coronation Street Blog - the book.
A must for all Corrie fans!
Please read
our advice for leaving comments on the Coronation Street Blog
All original work on the Coronation Street Blog is covered by a
Creative Commons License