Last week I sat down in the Rovers with actress Helen Flanagan and a throng of media people to discuss Rosie Webster's big return to Coronation Street. Whilst she and Rachel Newton were tight-lipped on the details of Rosie's storylines, Helen revealed what is was like returning to Weatherfield after five years away, during which time she starred on I'm a Celebrity and had a baby with partner Scott:
Welcome back. It's been a while, you're probably a different person now to the one that left, there's a brand new set, new characters – is it like coming back to the old Rosie or is it a completely new job to you?
It's completely different – I left when I was 21 and I'm 26 now so obviously I've matured loads and obviously now I've got a little girl. I see it completely different now I've come back and I think when I was younger I enjoyed it but I probably didn't really appreciate what a good job I had. I think when you go away for a while it can make you appreciate it.
What made you decide to come back?
I've wanted to come back for quite a while and it was just nice because they emailed me and asked if I wanted to come back. So I was just really excited!
Brooke Vincent said that she mentioned to Kate Oates about you wanting to come back. Does she get to take the credit for your return?
She did. We were texting and I was sending her pictures of Matilda and I just mentioned it to her. I get on really, really well with Brooke I absolutely love her to bits and it's nice that I get to come to work and work with one of my best friends.
Have you enjoyed getting glammed up again?
Yes I think I have the longest makeup time! I think it's because I have extensions in my hair. But I love going into work and feeling glamorous because when I'm at home with Matilda I do not look glamorous at all because you've got no time to put your makeup on, so I love that I get to work and actually get to look glamorous.
You're only back for a little while, you sound like you're really enjoying it, is there any chance you might extend it?
Yeah I would love to stay for a little bit longer because yeah I am really really enjoying it. Se well just see…
How long are you back for?
Quite a while and then we'll see how it goes.
Has Rosie changed?
I much prefer playing Rosie with a good heart, I didn't like it when they made my character a little bit too catty. I like playing the comedy I think…
How has it been coming back into full time acting?
Well when I left I wasn't really sure what I wanted to do so I brushed up on my acting with my acting coach just to kind of refresh really, and then I just fell back into it. It's like a family here.
What can you tell is about this boyfriend of Rosie's?
There's not a lot of background on him but she's really naïve and innocent about it and doesn't really realise that she's been set up, which I've enjoyed playing.
Rosie was always seen as a man-eater – who would you like to see her get together with in the Street? Adam Barlow?
(Laughs) Yes I think that might be something that happens…but he's a bit of a lady's man so I can't see her having an actual relationship with him…he chats her up and I think he's Rosie's type but he's not very nice is he, so it basically doesn't work out.
How do the other Street residents react to her coming back?
Well they see police cars so…they probably think oh god! I don't know what they'll think of her being a window cleaner because Sally's always going on about her daughter being a model!
You're coming back at a time when there are some really serious storylines happening, such as Michelle and Steve's – if you are here longer term, would you like to try some harder hitting storylines?
I think maybe down the line, but I do enjoy playing the comedy and the fun – it takes a massive toll on you doing the difficult storylines so I'm just enjoying doing the light hearted stuff at the moment.
WHAT WE KNOW: Rosie has been involved in some kind of set up involving her boyfriend and drugs which are eventually stashed at the allotment, she has a short fling with Adam Barlow, her and Sophie become window cleaners!?
See also my blog interview with Brooke Vincent
.
@StevieDawson
Like us on Facebook | Follow us on Twitter | Download our free App | Visit Corrie.net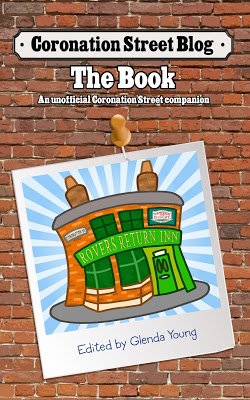 NEW! Coronation Street Blog - the book.
A must for all Corrie fans!
Please read
our advice for leaving comments on the Coronation Street Blog
All original work on the Coronation Street Blog is covered by a
Creative Commons License