Corrie weekly updates from 1995
All the wit and warmth of Weatherfield
None of the waffle

Available from

amazon.co.uk

or

amazon.com
Greetings and welcome to another week of words from Weatherfield. And so, without any further ado, here we go with this week's Coronation Street update.
This week has been one of the most harrowing to watch as Michelle went into early labour and lost her baby. She started having pains during the baby shower for her and Leanne in the Rovers. As Michelle cheerfully helped decorate the pub for the baby shower, she pulled out of the decoration box a string of words that had, at some point, read CONGRATULATIONS. Now it's so old and tatty with letters missing that it just reads ONGATITIS – and we've seen this on Corrie before, a lovely comic touch. Audrey gets drunk at the baby shower, having to down a shot every time the word 'baby' was mentioned and a stripper arrived, stripping down to reveal he was wearing a nappy. It almost put me off my hotpot. These lovely comic touches… all before the drama and the horror of what was to come.
Rushed to hospital, Michelle goes into labour at only 23 weeks and when her baby boy is born he isn't breathing. Under the hospital rules, there can be no birth or death certificate issued for the baby boy that Steve and Michelle had named Ruari. It would take a Corrie fan with a heart of stone not to have been moved by the hospital scenes, and again later when Michelle breaks down in the back room of the Rovers. Liz and Steve do their best to support Michelle but only Liz has a notion of what Michelle is going through, having lost baby Katy many years ago.
To contrast with the drama of Michelle and Steve, Corrie does what it does so perfectly. We had laughs from Kev and Tyrone fighting over a stapler and then making up in the Rovers. And we had villainy from Pat Phelan when he gets Andy to take delivery of Kev Webster's new truck. Kev assumes, wrongly, that either Tyrone, Luke of Freddie has nicked his truck off him and can't understand what's going on. In an effort to convince Kevin that his workforce wouldn't rip him off, Freddie installs CCTV in the garage linked to Kev's laptop.
We also had some wonderful, powerful scenes from Eva when she tells Toyah that she knows all about her relationship with Peter. This is news that throws Toyah and she begs Eva to keep the news from Leanne as she's in a fragile state with her pregnancy and all. Fluffy, pink and cuddly Eva then, once again, reveals the rod of iron that runs through her pretty little head and blackmails Toyah. She tells Toyah that she'll keep quiet about her fling with Peter as long as Toyah gets Peter to stop his crazy claim for Underworld.
Over at Victoria Court gym, the bailiffs move in to recover possessions against Sharif's debt that he left them all with. I'm not sure the gym worked for me as a location in Corrie, so I do hope we might see the last of it and something else might just take its place.
And finally this week, Bethany makes a new friend in Nathan who runs a tanning salon. So far, he's being nice to her, all friendly-like and warm, but there's danger ahead as he is going to turn out to be a sexual predator, grooming the young girl. Run, Bethany, run.
And that's just about that for this week.
Remember, you can sign up to get these Corrie weekly updates by email at
http://www.corrie.net/updates/weekly/subscribe.htm
This week's writers were Damon Alexis-Rochefort and Susan Oudot (Monday double); Susan Oudot (Wednesday); Debbie Oates (Friday double). Find out all about the Coronation Street writing team at Coronation Street Blog:
Exclusive: All Current Corrie writers online
Glenda Young
--
Blogging away merrily at
Flaming Nora
Website:
glendayoungbooks.com
Twitter: @
flaming_nora
Like us on Facebook | Follow us on Twitter | Download our free App | Visit Corrie.net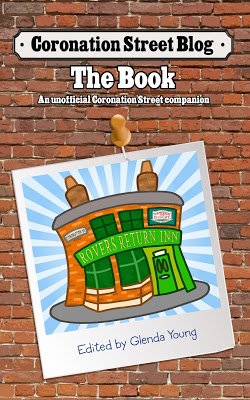 NEW! Coronation Street Blog - the book.
A must for all Corrie fans!
Please read
our advice for leaving comments on the Coronation Street Blog
All original work on the Coronation Street Blog is covered by a
Creative Commons License