Hiya! It's just Jordan with this week's Wednesday review. A belated Happy New Year to you all; I have just managed to emerge from the pile of essays I've had to write this month.
Following Monday's episode of Devastation Street, Wednesday started with Kevin looking on at his burnt-out garage and Steph is searching for flights to Portugal in order to sage a getaway following the revelation that Andy has been caught up in a bit of pantomime blackmail with Phelan. As we saw in Monday's episode, Andy succumbed to Phelan's demands yet again and became an arsonist. This plan was all wrapped up tightly by Phelan, who had spiked Kevin's drink in the Bistro and dragged the forcibly inebriated mechanic into the garage and stuffed him into the backseat of a car. Even by Corrie's standards, this was ridiculous. But as we are all loyal suspenders of disbelief, we go along with it yet again. Steph has miraculously secured herself an Andy jobs at a cocktail bar with her friend Katy (remember her?) and Luke is stunned to hear that they are leaving on Friday. He even buys her lame excuse that they've spoken about it for ages and just haven't said anything. It is only when Luke jokingly asks if they need a mechanic in a cocktail bar that Andy begins to realise what he has done. Kevin's business hangs in the balance and as such, Luke's job. To cut a long story short, the fire is treated as an arson attack and Kevin is soon arrested on suspicion of starting it.
Moving onto the much-anticipated miscarriage storyline, in Wednesday's episode the spotlight was finally turned on Steve. Michelle has been caterwauling her way through the past few episodes (and rightly so, after suffering such a cruel twist of fate) but it was a breath of fresh air to see how dad Steve is feeling. A heart-to-heart with old friend Peter leads Steve to revealing that he is the father of Leanne's baby. Their mutual dislike of "Super Step-Dad" Nick amusingly caused the two to bond and Peter

If you can remember back in 2014 when Peter confided in Steve that he was having an affair with Tina, the

scene in Wednesday's episode had the same sort of quality.

I enjoyed the scene with Peter and Steve far more than any of Michelle's crying scenes. It will be interesting to see where this storyline goes now that only Leanne will be having a baby.
Elsewhere, Sally has had the common sense to inform her daughters that their dad's garage went up in flames, despite their absence from the Street at present. However, in order to initiate a conversation with husband Tim, the talking ban must be lifted. The talking ban that Tim has imposed in retaliation to Sally's sex ban. The ban is soon lifted though, on the condition that the pair find a new hobby – a different kind – to do together. As well as all this, that tramp who they are trying to make into the new Becky (it will never work) has started her new job at the café, complete with eye rolls and folded arms. She's up to something, I'm sure. Oh, and Eileen got stupider, yet again. I've got a Phelan that she may think she's getting married in the morning but I doubt the bells are gonna chime!


A decent episode, I guess. Nothing too special. I hate to admit it, but watching Corrie has become a chore. The Phelan/Andy blackmail storyline has gone beyond madness and I am not overly keen on the miscarriage storyline. Corrie is trying to change the way people think -

again. I do not look at the storyline with rose tinted glasses and see that Michelle suffered such an awful injustice because she was just shy of the 24 week point. She suffered a tragic loss and I wouldn't wish it on anyone – but unfortunately limits and cut off points are there for a reason. As harsh as it may seem, some things just happen.


As always, thanks for reading!

Jordan

Twitter - @JordanLloyd39

Like us on
Facebook
| Follow us on
Twitter
| Download
our free App
| Visit
Corrie.net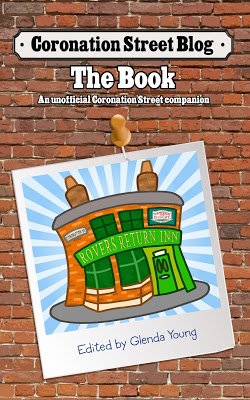 NEW! Coronation Street Blog - the book.
A must for all Corrie fans!
Please read
our advice for leaving comments on the Coronation Street Blog
All original work on the Coronation Street Blog is covered by a
Creative Commons License