Michelle has started to lactate, which further increases her mourning and horror. She gets dolled up for a lunch with Steve and orders a bottle of red wine, for herself. "It's not like I'm breast-feeding or owt," she says sarcastically. She's read that anger is a natural reaction and she's letting it all out. In an upsetting scene, she toasts "my dead son" and tells the assembled crowd that she had to give birth to her "sleeping son". Given that Steve suffers from depression, it feels like he should spot the signs in Michelle; this isn't just grieving and loss. She ends up on the edge, quite literally, as she teeters on the brink of the viaduct. Steve organises a search party, but it's Robert who finds her, in the depths of suicidal despair. "I don't think I can live without him being alive" she tells Robert who tells her she can keep him alive - in her heart. She leans in for a kiss, which he, ever gentlemenly, rejects and instead walks with her to the chapel of rest so she can be near Ruairi, where she realises that she was wrong to push Steve away.
Cathy's middle name isn't Donna but she's keen on working at the kebab shop. Gemma stops reading about "My Vajazzle Hell" in her mag long enough to give Cathy a job, without Dev's, or even Chesney's consent. Her training session is brief but informative: "Here's the meat. Here's the salad", but Dev's not pleased with Gemma's initiative and sacks Cathy before she's constructed her second kebab, before reneging and offering Cathy some hours in his retail empire much to her, and Brian's, pleasure.
Tommy Orpington is on the mend and is having a VIP training session at Weatherfield County with local lads, including Simon, who unfortunately can't take part because the latest of Peter and Nick's spats ends up with Simon's hand trapped in a car door, which at least seems to bring the two grown men to their senses.
Norris and Sean (Sorris? Nean?) are getting on well as roomies, but Brian has drunk all the milk, eaten all the bread and spent 23 minutes in the shower. Thus, Sean is stress-carb-eating and is further miffed when Eileen reveals that
she and evil Phelan got wed
without telling him
.
Eileen's loving hubby fails to come to lunch with Sean as he is flooding the carpet in the flat to get rid of any evidence of Andy's demise. It's unclear as to whether Phelan
is waking up in the middle of the night shocked and scared because he's murdered a man, or because he's just remembered he married Eileen.
Meanwhile, Brian, after being chewed out by Sorris and hearing from Shona that Roy is lonely, eyes up Roy's spare room.
And finally, Ken has a DNR order in case of another stroke, which causes consternation in his family, or at least the ones who've turned up since his illness.
Rachel Stevenson -
on twitter
Like us on Facebook | Follow us on Twitter | Download our free App | Visit Corrie.net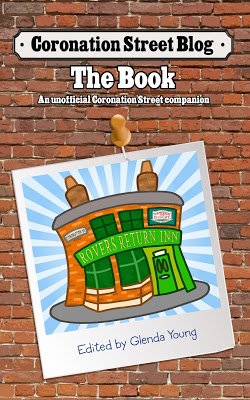 NEW! Coronation Street Blog - the book.
A must for all Corrie fans!
Please read
our advice for leaving comments on the Coronation Street Blog
All original work on the Coronation Street Blog is covered by a
Creative Commons License