Farewell then to the lovely Steph as, case in hand, she departs the cobbles for sunnier climes.
As pointed out once before, no one in Weatherfield ever moves to Eccles or Edinburgh
. Oh no. The departure has to be some big production number, except for Carla Connor who rather than do exactly that, set off to potter around in a Devon tea shop.
When Steph first appeared in the show, she was a breath of fresh air, particularly as she was paired up with Tina 'young fogie' McIntyre. The Steph who has just departed was a wearier version, weighed down by a relationship with M'Lord of the Perpetual Frown, Andy Carver. Together they made a pretty couple although Steph was the stellar component of the duo. She shone brightly for both of them which was just as well because Andy was as effervescent as a black hole. You can only imagine that the powers-that-be found themselves shrugging when faced with the question 'what do we do with him now?' Poor old Andy trod the path from liar, to middling bar man, to half-hearted boyfriend, would-be author and then, inexplicably, to GBH-cum-arsonist merchant. In the end it was all too desperate and this blogger for one, didn't care. He could have machine-gunned wincing Nick dressed in one of Rita's cabaret frocks and I wouldn't have blinked. Bye Andy.
In
Corrie
terms though it was a mercifully quick ending. In days gone by, an Andy-like character would have flittered around the show for months before finally being shown the door (see the Mortons, St. Ella of the Back Room or even, several hundred years ago, the Hopkins family). Steph wasn't outstaying her welcome but for actor and production team alike, it must be a challenge knowing what to do next with a bubbly personality like hers. Have her serving miniature beef wellingtons into her dotage? Shove her in the Rovers for thirty years? Marry her off to Norris? Sadly her time had come and with fond remembrance, we'll remember Steph. Well, for a couple of months anyway.
At the other end of the scale though we have Chesney and Sinead, the 'Leon and June' of Weatherfield. Comfy and dependable but, unlike Leon and June, terribly dull. Somehow this duo has fallen foul of the
Corrie
Curse, whereby anyone under the age of thirty takes on the mannerisms of a pensioner. Out goes fun and in comes world-weary drudgery. Again we've seen Sinead morph from joyously off-beat candle-maker to frowsty knicker-sewer. Will hooking up with Daniel Osbourne relight her fire? Or will she be making cottage pie for his tea whilst he pores over the Weatherfield Gazette? Time will tell but both Sinead and Ches need a shot of adrenalin. Or personality.
It's also, arguably, time for Pat Phelan to jog on. There's a seat on the Weatherfield Wayfarer with his name on it. We all know that every soap has to have a baddie and bravo, he's been kept on the right side of moustache-twirling mad man. Another Tony Gordon would have been too much for anyone. Pat has his uses. He's now tethered to the eminently unlikable Eileen and there's a sense of schadenfreude as we take a ringside seat and watch her world collapse. Which it will at some point although we don't know when. Instead, there could be several decades of Pat doing his Scouse 'I'm mad, me' act. However, let's remind ourselves once more, 'this is a soap' and so under Rule 56D, he will get his comeuppance at the hands of either Eileen of the Miseries, scarface Todd, Anna screeching 'hiya' at him until he keels over or . . . how about a certain former bubbly waitress jetting in quickly and quietly from Portugal and exacting her revenge? She can bring mini beef wellingtons for the wake.
David Bridgman, twitter: @BridgLondon
Like us on Facebook | Follow us on Twitter | Download our free App | Visit Corrie.net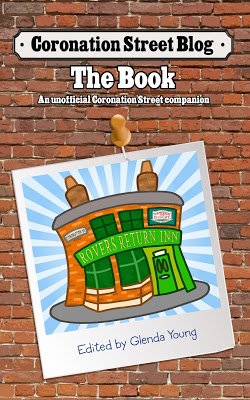 NEW! Coronation Street Blog - the book.
A must for all Corrie fans!
Please read
our advice for leaving comments on the Coronation Street Blog
All original work on the Coronation Street Blog is covered by a
Creative Commons License