Wednesday 25th January
STEVE AND MICHELLE SAY GOODBYE Steve enters the Chapel of Rest to find Michelle asleep on a chair. Steve gazes emotionally at Ruairi's tiny body in the coffin. Michelle wakes, grateful to find Steve there. Promising never to mention the kiss, Robert heads off. Michelle kisses Ruairi goodbye and tells Steve that she wants the funeral to be a private affair with just the two of them present. Billy conducts Ruairi's funeral as the two parents come together united in their grief. NICK'S PARANOIA BOILS OVER When a delivery man calls at the Rovers with a parcel, Liz is horrified to realise it's the moses basket she ordered for Ruairi. Liz calls on Leanne and offers her the basket, explaining that she doesn't want Michelle or Steve to see it. Leanne's touched and when she feels her baby kick, she allows Liz to feel it too. But how will Nick react when he arrives home to see the gift and to the realisation that Liz knows their baby is Steve's?
HAS AIDAN PUSHED ALYA TOO FAR? Adam barges his way into the factory and demands a valuation of the business but Aidan and Johnny tell him to sling his hook, promising they'll see him in court. Adam approaches Alya and suggests that if she can do some digging and help him with his case against the Connors, he'll make it worth her while. When Alya suggests she deserves a promotion, Aidan's dismissive leaving Alya annoyed. Has this pushed Alya to make the deal with Adam?
ELSEWHERE When Brian flouts the house rules yet again, Norris tells him to consider himself evicted. As Roy mulls over his next model railway project with Shona, they're interrupted by the arrival of Brian with all his worldly goods in tow. But does Roy really want a companion?
Like us on Facebook | Follow us on Twitter | Download our free App | Visit Corrie.net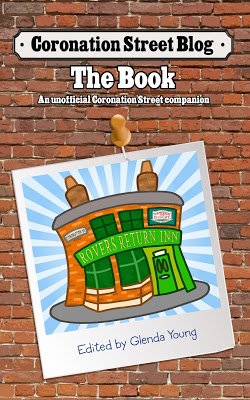 NEW! Coronation Street Blog - the book.
A must for all Corrie fans!
Please read
our advice for leaving comments on the Coronation Street Blog
All original work on the Coronation Street Blog is covered by a
Creative Commons License