Peter states his intentions of not having any more children and he and Toyah discuss "a future with no ties and no responsibilities". Or rather, he discusses it. Toyah is rather more keen on some baby-shaped ties and responsibilities. As coincidence would have it, today's the day that Liverpool's fertility clinic has contacted the ex-Mr Battersby to tell him that the time's up on their frozen embryos. Toyah is conflicted, wanting kids, but wanting them with Peter, but Toby tries to persuade her that they can still get pregnant, can still be together and they seem to seal it with a kiss. Until she tells him she loves Peter, that is, and signs away the embryos and goes off to drink mocktails with Eva and Leanne in a spa. Even more coincidentally, cabbie Peter picks up Toby, who recognises him and breaks the news that Toyah is desperate for a baby. Perhaps Toyah should spend some time with Steve: he can get women pregnant just by gurning at them.
Are we ever going to find out what happened to Toyah and Spider and that juice bar in Streatham?
Kev and Tyrone are still at loggerheads, about everything from not saying "No thanks" to a cup of tea, to the fact that Kevin had an affair with Molly eight years ago. Phelan further rubs sodium chloride into the garage-shaped wound by offering to do the renovations on the burnt out shell of Kev and Tyrone's relationship business and has a jolly little laugh at their expense when Kev bops Tyone on the nose when he insults Sophie. Worse is to come as the insurance fails to cough up as they suspect Kevin started the fire. Anna offers to go back to work, but Kev has a better idea: suing David Platt for causing Anna's injuries.
Ken details his post-hummus possessions that are up for grabs, to Adam, who is a solicitor, lest we forget. He finds out that he's going to receive a paperweight and a third of a quarter of Ken's estate, which as far as I can see is a house (that had to be remortgaged for Tracy's trial) and some falling down furniture. Not really enough to keep Adam in camel-hair coats and hair wax. Later, Adam and Todd discuss what they would do in their fictional legal firm, Black Sheep Solicitors.
Jenny is planning for a fabulous wedding, with our without Aidan as a pageboy, despite Johnny's eye-rolling and Kate's ignorance of the engagement. She's thinking about rose arches, pottery pigs and the moon on a stick for the nuptials, until Johnny rains on Jenny's parade with talk of wedding budgets and pre-nups.
Cathy and Yasmeen continue to bond over their relationship failures after Brian packs up Cathy's belongings from Roy's flat. I know Brian is a tactless oaf, but his teddy bear impression was very funny. Later, he apologises with a touching (funny) story about Julie flushing his home-made toy snake down the toilet and it does seem that TPTB are going to put Cathy and Brian together, just to cause ructions with Roy.
No Monday reviews for three weeks, I'm afraid, as I'm off on me holidays.
Like us on Facebook | Follow us on Twitter | Download our free App | Visit Corrie.net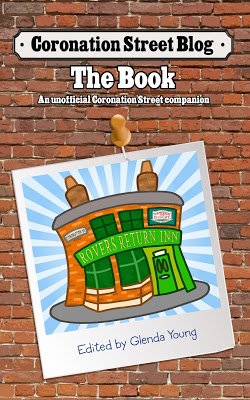 NEW! Coronation Street Blog - the book.
A must for all Corrie fans!
Please read
our advice for leaving comments on the Coronation Street Blog
All original work on the Coronation Street Blog is covered by a
Creative Commons License