Grace under Pressure award:
Wasn't Leanne kind to Liz? Alya helped Aidan and Johnny stitch up Adam. The whole job title argument and subsequent complaining was all part of the plan to suck him in.
Walking on Eggshells award:
Everyone is walking on eggshells around Michelle because you don't know what kind of reaction you're going to get. She needs help and she needs it now.
Reality check award:
Peter and Nick just couldn't stop ripping each other apart until Simon ended up hurt. Priorities, men. And Grow UP!
Determined award:
Michelle had to climb up a tall circular staircase and then up over some sort of embankment, in heels, to get to the edge.
Nose out of Joint award:
Nick who bought a Moses basket for Leanne on the same day Liz gave her the one she bought for Ruairi. Thus, it put our petty boy's nose out of joint.
Open mouth, change feet award:
Fiz's off hand implication that Michelle was still young enough to have another baby really was a very embarassing faux pas even if it was unintentional.
Hoist by his own Petard award:
Adam was forced to sign away his rights (again) to the factory for one pound! Love it! Ken was right, he was motivated by greed, not a true wish for his birthright. Nicks's grand plan to remove Leanne from the father of her baby and from Peter's influence backfired badly. And Peter's far more of a threat to Nick's insecure little life than anyone else could be.
Lines of the week:
Ken "I want to live, or be remembered as a man who lived"
Eileen "So far, being married sucks!" (you just wait! You certainly could have picked a better'un!)
Phelan "Deep down, I think I'm a good man. At least I hope I am" (Lies like a rug or is he really that delusional?)
Robert to Michelle "If you live, he can live" (oh well, why didn't you say so before now?)
Phelan to Luke "Some people are very convincing" (You're looking at one of them)
Adam to Alya "I don't bite, I just sue"
Amy to Tracy "You know, you're officially a cougar now"
Roy "Love doesn't allow for objective rationalization"
Tracy "This (birthday) is worse than my 30th" (Yes, getting convicted for murder would quality as the worst birthday ever, I think)
Nick to Toyah "This is happening whether you like it or not. So you can be part of the problem or part of the solution, it's your choice" (obviously realizing his decision is going to take some convincing)
Daniel to Adam, quite gleefully I might add "Let me get this straight. You got played by a woman!"
Luke to Tracy "I like you!" (and you know, that's a very important thing in a relationship)
Nick "I don't respond well to threats" Peter "Then consider this a promise" (Peter 1, Nick 0)
Like us on Facebook | Follow us on Twitter | Download our free App | Visit Corrie.net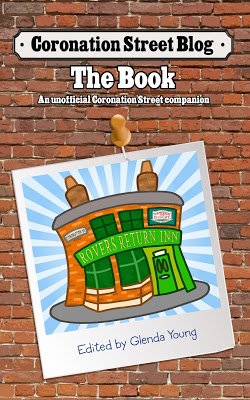 NEW! Coronation Street Blog - the book.
A must for all Corrie fans!
Please read
our advice for leaving comments on the Coronation Street Blog
All original work on the Coronation Street Blog is covered by a
Creative Commons License