Friday 27th January
NICK RESORTS TO DRASTIC MEASURES Leanne tears a strip off Nick for his lack of sensitivity towards Liz. As Nick and Leanne continue to row, they're interrupted by the arrival of Toyah. Under pressure, Leanne admits to Toyah that the baby she's carrying isn't Nick's but is actually Steve McDonald's leaving Toyah stunned. Nick offers Liz an awkward apology and Liz assures him that she doesn't want to cause any trouble for he and Leanne. As Nick heads off, he's perturbed to spot Leanne chatting to Steve outside the café. Reaching a decision, Nick heads to the bistro and sets about his drastic measures. When Toyah interrupts him, she's horrified about what he is planning.
ADAM'S CAUGHT RED-HANDED Handing Adam the keys to the factory and a fake password for Johnny's computer, Alya assures him the place will be empty at lunchtime. Alya leads the girls to the pub to celebrate Izzy's birthday, while Adam tries but fails to access Johnny's computer. But when Aidan and Johnny suddenly appear has Adam been rumbled?
IT'S TOO MUCH TOO SOON FOR MICHELLE When Fiz unwittingly makes a crass comment suggesting Michelle could always try for another baby, Steve and Michelle are furious.
ELSEWHERE It's Tracy's 40th birthday, Daniel gives her a wine appreciation course whilst Adam has clearly forgotten. When Ken tells Tracy he wouldn't be very good company, her birthday lunch is a total flop with just Daniel and Luke attending. However things still manage to go from bad to worse.
Meanwhile Roy suggests Brian starts looking for somewhere to live.
Friday 27th January
PETER PUSHES NICK'S BUTTONS Toyah warns Nick that Leanne's not going to like his crazy idea. Under pressure Toyah feels forced to tell Peter how Nick is planning to take Simon to live in Edinburgh. Fired up, Peter confronts Nick about his plans. Leanne's stunned, pointing out it's the first she's heard of it. Peter reveals to Nick that he knows Steve is the father of Leanne's baby and that if he tries to pull any more stunts, he'll spill the beans. How will Nick react?
ADAM BELIEVES WHERE THERE'S A WILL, THERE'S A WAY As Adam rows with Alya for sabotaging his plans, Ken approaches and demands to know what's going on. Ken tears a strip off Adam for attempting to rip off the Connors. Adam squirms whilst Daniel enjoys his discomfort. Later, Dev calls at the flat and tells Adam the rent is overdue. Making out it's a bank error, Adam assures him he'll have it soon. Daniel tells Adam he should stop arguing with Ken as the stress could bring on another stroke. Adam apologises to Ken and tells him he'll support him in his DNR decision and suggests he should also sort out his will. Ken's grateful for his backing.
STEVE TAKES MICHELLE AWAY FROM IT ALL Steve apologises to Michelle for losing his temper with Fiz and suggests they should go and stay with her parents in Ireland as a break will do them good. As Steve and Michelle leave for Ireland, Robert's sad to see them go.
ELSEWHERE Having spruced himself up, Luke returns to the bistro and presents Tracy with her proper birthday present. Tracy's genuinely touched and opens up to Luke, telling him how she spent her 30th birthday in prison for murder. Luke's taken aback, will her revelation scare him off? Brian cooks Roy a lovely meal and promises he'll be out of his hair by tonight - will this be enough to soften Roy?
Like us on Facebook | Follow us on Twitter | Download our free App | Visit Corrie.net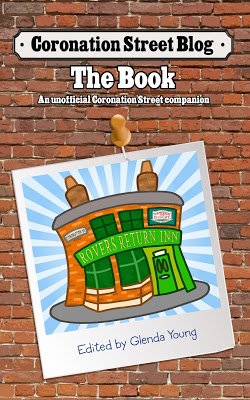 NEW! Coronation Street Blog - the book.
A must for all Corrie fans!
Please read
our advice for leaving comments on the Coronation Street Blog
All original work on the Coronation Street Blog is covered by a
Creative Commons License