Eileen and Phelan were married last night in Coronation Street. And it's a venue that's been used for filming many Corrie weddings.
The venue is Ryecroft Hall in Audenshaw. Have a look at our blogger Tvor's post with some great pics from the interior of Ryecroft Hall.
It was also where Gail married Michael Rodwell and also Joe McIntyre. It's been the filming location used for the weddings of

Karl and Stella

, Steve and Becky

,

Rita and Dennis

, Jason and Sarah

,

Graeme and Xin

,

Liz and Vernon

.
Check out the full list of Corrie wedding filming locations here.
See also: Where have you seen?
Aidan Connor's solicitor,
Colonel Kebab
,
Faye's boyfriend Seb, Alex's dad Nigel, Lauren the bully, Sharif's lover Sonia, Corrie policewoman, Alistair the tile con man, Filming location for Tony Stewart's funeral, Billy's parisioner Lee, Liz's new fella, Corrie wedding fayre venue, Richie O'Driscoll, Anna's date Glen, Kevin's date Joanne, Rob Donovan's cell mate, Dab Andy, Cathy's sister Nessa, Caitlin Ryan, Dan's daughter Lucy, Steve and Michelle's wedding venue, Naila the Corrie journalist, Jackson Hodge's dad, Eileen's boyfriend Adrian, David and Callum's mediator, Callum's mum, Gail and Michael's wedding venue, Owen's ex-wife Linda, Steve McDonald's counsellor, Beth's mum, Diane the sofa woman from Hale Barnes, Mark the motorcycle medic, Mrs Waddle, Michael Rodwell's Aunt Barbara, Peter Barlow's cellmate Clelland, Carla Connor's solicitor Pauline Mansell, Pat Phelan, The Corrie clairvoyant, Eric's wife Doris, Audrey's date Henry, Lewis' friend Patrick,The Corrie Registrar, Marcus' friend Aiden, Kirsty's parents, Jenny Sumner, Corrie's prison Governor, Sunita's Aunties, Ken and Deirdre's pottery teacher, Tommy Duckworth, Mrs Hargreaves who died in Audrey's salon, Sally Webster's fella Jeff,

Joy Fishwick's investigator

,

Charlotte's Parents

,

Ken Barlow's grandson James

, Ken Barlow's son Lawrence, Dr Matt Carter, Saucy Charlotte, Izzy's dad Owen Armstrong,The Corrie coppers, Colin Fishwick, Trevor the binman, Connie Rathbone, Uncle Umed,Julie Carp's mum, Luke Strong, Sophie Webster's boyfriend, Eileen Grimshaw's dad, Norris' girlfriend, Graeme Proctor,Molly's Aunty Pam, Maria's mum and dad, Gail's dad, Scary Brian, Tina's dad, Tony Gordon's henchman, Little Simon Barlow
Like us on Facebook | Follow us on Twitter | Download our free App | Visit Corrie.net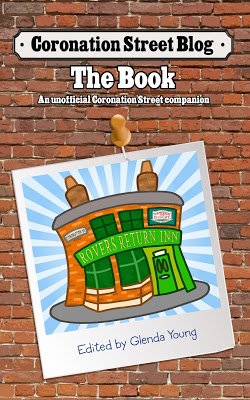 NEW! Coronation Street Blog - the book.
A must for all Corrie fans!
Please read
our advice for leaving comments on the Coronation Street Blog
All original work on the Coronation Street Blog is covered by a
Creative Commons License