Stevie Dawson caught up with fellow Rochdalian Katie McGlynn inside Studio 1 at Coronation Street studios in Salford. She revealed some steamy upcoming scenes and the possibility of a new Ken and Deirdre...
We've seen things get rocky between Sinead and Chesney, what's caused that?
They've been together a while now and they're known to be like an old married couple. It's getting very mundane and they are annoying each other.
Has she changed?
I think she's developing as a young woman, and you do change. She's becoming more independent, especially with the modelling, she's just growing up and the relationship with Chesney doesn't seem to be growing with her.
Mysterious, exotic, different, as Daniel described her, doesn't sound like the Sinead we first met…
No. When she first came into it she was very quiet, she's quirky which I love. She stands out from the crowd, not your average Coronation Street woman.
What's it like switching love interests?
At first it was a bit odd, it was like 'ooh it's not Sam!' but I'm enjoying working with Rob (Mallard) I think he's brilliant. We really get on and it's good to play a different relationship, it's a lot more passionate, exciting. I'm still working with Sam (Aston) it's just not very nice! I am going to miss him.
Does Sinead just dump Chesney then?
It's not for Daniel, she's felt like this for a long time. She's teetered around it but she's found it very difficult because she doesn't want to upset him. But Daniel's come alongside and just pushed her to that decision. She's intrigued by Daniel, she finds his intellect very interesting. He sees her quirky qualities and how she's very practical, he's more bookish.
Were you excited to get more involved with the Barlow family?
Yeah I love being in the Tinker household, but it's exciting to be able to work with a new family on the street. You don't always get to do that. We haven't filmed too many scenes with me and the Barlow apart from Adam Barlow. Sinead and Adam do not get on. Which I quite like. The relationship between Sinead and Daniel moves very fast, they move in together and Adam's there and she just thinks he's stupid and quite arrogant. She compares him to Daniel a lot. And Adam tells Chesney about Sinead and Daniel sleeping together, that's why she doesn't like him.
Are Sinead and Daniel in it for the long-haul?
I don't know, I though Chesney and Sinead were in it for the long-haul, but you never know!
What did Sam say to you when he first read the scripts?
He was really sad, I was as well. It means we aren't going to work together as much. He's got a good partnership with Dolly who plays Gemma, it's a good double act.
Is there going to be a complete change in your character or is she still going to be the crazy one and Daniel might be able to put up with it more?
Because it's so new, it's having to move really fast, I'm not sure what the hierarchy is going to be like but Sinead is just going to be herself. The way she reacts to Daniel might be a bit different, she might idolise him a bit more.
Explain the scenes where she sleeps with Daniel for the first time…
Basically, he keeps popping up (everyone laughs), he's always there, he needs somewhere quiet to study and she's doing overtime at Underworld, so she says you can come and work in the factory. You can feel the tension but nothing happens at first. He's not very nice to her to begin with, there's a scene in the café where Adam winds him up about being a virgin, so he's angry. Then after that he says he's really sorry and it drives them both to just think 'let's 'ave it'.
How passionate does it get?
It's pretty passionate.
Are there any nerves about big name cast members coming back, in terms of screen time for the other characters?
I'm not fazed by it. Kate Oates knows what she wants, whoever comes in it doesn't really make a difference to me. It's a bit of reassurance with Daniel, it's good to be linked to him.
What if Chesney and Gemma get together?
She'd be happy if he's happy. Maybe a little upset at first but she'd just be happy if he's happy.
How do you film those drunk scenes?
I don't know I just do it. I always dread scenes like that because when you're drunk you're always trying to act sober, and that's how you can tell when you're acting. With the dancing that's how I go out on a Saturday night!
Could you see Daniel and Sinead as the new Ken and Deirdre?
Yes it's very possible that it could go that way. He is like a mini Ken. It just depends if they are still together.
@StevieDawson
Like us on Facebook | Follow us on Twitter | Download our free App | Visit Corrie.net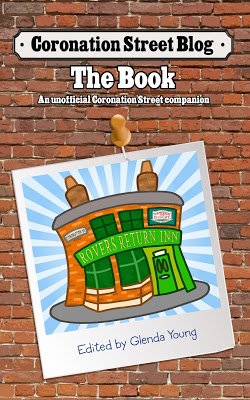 NEW! Coronation Street Blog - the book.

A must for all Corrie fans!
Please read
our advice for leaving comments on the Coronation Street Blog
All original work on the Coronation Street Blog is covered by a
Creative Commons License