Monday 30th January
TOYAH'S FACED WITH A BABY DILEMMA Toyah is devastated when Peter tells her he doesn't want any more children. Her husband Toby calls to see her to tell her the fertility clinic have been in touch regarding the future of their frozen embryos and she finds herself on the horns of a dilemma when he asks her to give their relationship another chance. Who will she choose?
KEVIN AND TYRONE ARE AT LOGGERHEADS Kevin is furious when he discovers that Tyrone has given Phelan the job of repairing the burnt out garage. Tyrone makes it clear he still believes it is Kevin's fault they are in this mess and when a phone call brings shocking news it looks as though Kevin's troubles are far from over.
KATE'S IN FOR A SURPRISE Looking like the cat that's got the cream, Jenny shows the factory girls her engagement ring. Johnny wonders how he's going to break the news to Kate but the decision is taken out of his hands when Kate arrives back from Bali - how can Johnny recover this?
ELSEWHERE Having made a list, Ken talks Adam through his will but when Ken explains that only a quarter of his estate is to be split between his grandchildren how will Adam react? And Brian rubs Cathy up the wrong way.
Monday 30th January
TOYAH REACHES BREAKING POINT Toyah catches up with Leanne and Eva at the spa. Noticing Toyah's red eyes, Leanne wonders what's wrong. Toyah breaks down and explains how much she wants a baby and how she went through years of fruitless IVF with Toby. When Leanne suggests she could still start a family with her new man, Toyah's forced to admit he doesn't want any more children. Alone Eva urges Toyah to tell Peter the truth about how much she wants children but Toyah's worried it could be the end of their relationship. Meanwhile Toby gets into Peter's cab as he heads for the station. Recognising Peter as the man who stole his wife, Toby bitterly reveals how Toyah's obsessed with IVF and getting pregnant. Peter's stunned.
KEVIN'S GOT A SHOCKING PROPOSAL FOR ANNA When Kevin admits he punched Tyrone, Anna resolves to go back to work and do her bit to get them out of their financial mess. In a bid to solve all their financial problems, Kevin tells Anna they should sue David Platt and go after compensation for her injuries. How will Anna feel about his suggestion? Kevin confides in Anna that the insurance company is refusing to pay out as the cause of the fire looks to be arson and he's the main suspect.
JONNY GIVES JENNY A REALITY CHECK As Jenny swoons over wedding magazines and boasts to the factory girls how she's going to have the wedding of her dreams, Kate warns Johnny he could end up penniless if he's not careful. How will Johnny react? Aware Jenny's getting carried away, Johnny suggests they should have a wedding budget and pre-nup in case things don't work out.
ELSEWHERE Detecting Adam's disappointment, Ken explains he has to put his children first. As Ken heads off, Adam throws him a look of contempt. Todd clocks this. In the Rovers, Adam reveals his plans to set up his own legal firm and make some serious money. Todd says he'd be interested in coming in with him. Drunk, Adam confides in Todd how he wants revenge on Ken who's punishing him for being Mike Baldwin's son.
Like us on Facebook | Follow us on Twitter | Download our free App | Visit Corrie.net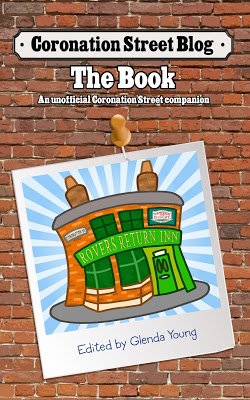 NEW! Coronation Street Blog - the book.
A must for all Corrie fans!
Please read
our advice for leaving comments on the Coronation Street Blog
All original work on the Coronation Street Blog is covered by a
Creative Commons License