Todd's dad was dependable and was making plans for them as a family when Eileen got scared and legged it. She regretted it afterwards. We've never seen Todd's dad, have we?
Dennis Stringer
. Dennis took Eileen to Paris for her birthday but soon broke her heart when he fell for Janice Battersby. He left Eileen and moved in with Janice but he died in a car crash shortly after.
Harry Flagg
, She dated Harry briefly after Jason and his girlfriend Candice put a "lonely hearts" ad in a paper on her behalf but they've decided they are just friends.
Ed Jackson
. Ed was revealed to be Ernest Bishop's killer from almost 30 years ago.
Phil Nail.
Eileen and Gail both became attracted to reflexologist (aka Phil the foot-fiddler) Phil Nail when he started working at the Rosamund Street Medical Centre, Gail was the one who eventually won his affections.
Pat Stanaway
. Pat the Irishman (no, it's not a game) turned out to be dating six other women at the same time he was seeing Eileen.
Jerry Morton
. Eileen dumped him after he had no time for her.
Jesse Chadwick
. Eileen let Jesse move into her home, and she put up with his annoying parrot. However, she wasn't happy when Jesse began using her newfound sister Julie as his sidekick. She dumped after he had a big win on the horses and used the money to take his parents on holiday.
Paul Kershaw
. Paul the fireman was married and his wife Lesleby had Alzheimer's Disease, early on-set dementia. Paul proposed to Eileen and said he wanted to divorce Lesley. Eileen struggled to come to terms with Paul continuing to work in the fire service following the fire at the Rovers. Paul and Eileen agree it is best that they separate and Paul gets a transfer to North Yorkshire Fire and Rescue Service.
Adrian Mortimer.
Eileen met him online, he seemed genuine and nice but Todd messed the whole thing up for her.
Jason's dad, Tony Stewart
. Eileen caught Tony in bed with another girl when she was pregnant with Jason. Tony proposed to Eileen when he found out she was expecting but she turned him down.
Michael Rodwell.
He ping-ponged his way between Eileen and Gail before carking it in a heart attack and left to die by Pat Phelan.
If I've missed any of Eileen's many men, do please let me know!
Like us on Facebook | Follow us on Twitter | Download our free App | Visit Corrie.net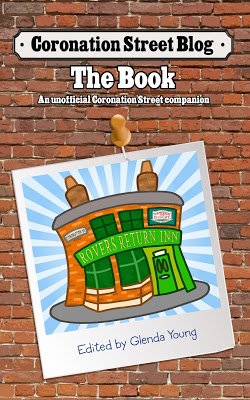 NEW! Coronation Street Blog - the book.
A must for all Corrie fans!
Please read
our advice for leaving comments on the Coronation Street Blog
All original work on the Coronation Street Blog is covered by a
Creative Commons License