Wednesday 18th January
KEVIN FALLS FURTHER FOUL OF PHELAN As the fire investigator sifts through the charred remains of the garage, he finds a set of keys. Kevin surveys the scene, distraught. Steph tells Andy they're flying to Portugal on Friday (to stay with Katy) and need to focus on getting as far away from Phelan as they can. As they tell a perplexed Luke of their plans to move Portugal he wonders if there's more to it than they're letting on. Meanwhile when Kevin tells Tyrone that he intends to sell the garage once the insurance has paid out, Tyrone becomes suspicious, especially when the fire investigator confirms that the blaze is now in the hands of the police as they suspect it's a case of arson. The police confirm that with no sign of a forced entry and no sign of Kevin's laptop it looks like arson. As Tyrone confronts Kevin over the fire, suggesting he started it himself, the police arrive. Will Kevin be arrested on suspicion of arson? Meanwhile Eileen reveals to Liz that she's marrying Pat tomorrow.
PETER'S STUNNED BY STEVE'S BOMBSHELL Telling Liz that she's disgusted with Steve who's behaving like nothing has happened, Michelle heads off to visit Ruairi in the Chapel of Rest. Steve breaks down and confesses to Peter that Leanne is pregnant with his baby and he blames himself for Michelle's ordeal as it's payback for his terrible behaviour - will Peter be able to offer any words of comfort?
IT'S A FRESH START FOR SHONA Shona starts work at the café. When Roy explains the difference in VAT on 'eat in' or 'takeaway' food, Shona does her best to appear interested.
ELSEWHERE In retaliation for Sally's sex ban, Tim imposes a talking ban. Daniel thanks Sinead for all her help with his MA application and presents her with a venus fly trap. Sarah breaks the news to Bethany that she and Gary are back together.
Like us on Facebook | Follow us on Twitter | Download our free App | Visit Corrie.net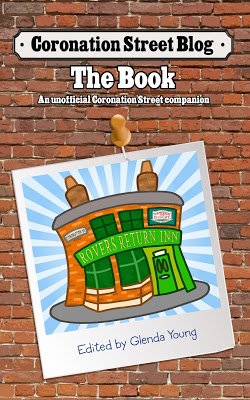 NEW! Coronation Street Blog - the book.
A must for all Corrie fans!
Please read
our advice for leaving comments on the Coronation Street Blog
All original work on the Coronation Street Blog is covered by a
Creative Commons License