Monday 23rd January
GRIEF TAKES A WORRYING HOLD OF MICHELLE When Steve suggests they could drive out for lunch, Michelle snaps at him, telling him the only person she wants to spend time with is Ruairi. Having slapped on some makeup and a pair of heels, Michelle announces she's changed her mind and she'd like to go out for lunch. Steve is taken aback. Over lunch in the bistro, Michelle hits the bottle. When Steve suggests she should slow down, Michelle turns on him pointing out she's not breastfeeding so it doesn't matter. Steve confides in Robert he doesn't know how they're going to get through this. Clearly drunk and to the embarrassment of the other diners, Michelle proposes a toast to her dead baby before storming out upset. Deeply worried, Steve confides in Liz how Michelle stormed out and he's no idea where she is.
IT'S NO HONEYMOON FOR PHELAN Phelan sets about erasing all traces of his fight with Andy… will Phelan be able to cover his tracks convincingly?
NICK RUBS PETER UP THE WRONG WAY Peter starts work at Street Cars, only to find his first fare is Nick and Simon. In the taxi, Nick mocks Peter for being a hopeless father so Peter snaps, ordering him out of the cab. But as Nick throws open the door, disaster strikes.
ELSEWHERE Cathy approaches Gemma hoping for a job at the kebab shop. When Ken reveals that he intends to put a DNR order in place in case he should suffer another stroke, Tracy, Adam and Daniel are horrified.
Monday 23rd January
ROBERT IS ALL THE THERAPY MICHELLE NEEDS Worried for her safety Steve, Tim, Robert, Johnny and Kate set off in search of Michelle. It's Robert who gets to Michelle first and he's shocked at the state he finds her in. Robert phones Steve and assures him Michelle's safe. Gazing at Robert intently, a vulnerable Michelle leans in for a kiss. Will Robert give in to his desires? Rather than returning home, Michelle tells Robert she'd like to visit Ruairi in the Chapel of Rest. As they set off, Michelle pours her heart out about her grief for Ruairi and Steve's apparent lack of understanding. Robert listens sympathetically. As Robert and Michelle arrive at the chapel will Michelle continue to lean on Robert for support or is it Steve that she needs?
PHELAN OFFLOADS HIS GUILT Having loaded the incriminating evidence from the fight at the flat into his van, Phelan lies that Andy flooded the flat in an act of defiance before he left. Will everyone continue to be taken in by Phelan's web of lies?
NICK REALISES BLOOD IS THICKER THAN WATER As Simon waits to be seen by a doctor, Nick and Peter blame themselves for his injury in the car door. As the doctor explains to Simon that he's dislocated his finger and will need a local anaesthetic, Simon looks to Peter for comfort causing Nick to feel left out. Will this fracture Peter and Nick's broken relationship further?
ELSEWHERE When Dev tells Gemma she had no right to hire Cathy without consulting him, Cathy heads out disappointed, will Dev change his mind? Shona's horrified to find Roy listening to classical music and playing with his train set - assuming he must be terribly lonely. When Shona confides in Brian how worried she is about Roy, Brian hatches a plan.
Like us on Facebook | Follow us on Twitter | Download our free App | Visit Corrie.net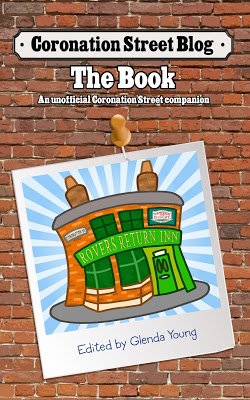 NEW! Coronation Street Blog - the book.
A must for all Corrie fans!
Please read
our advice for leaving comments on the Coronation Street Blog
All original work on the Coronation Street Blog is covered by a
Creative Commons License