Guest blog post from Coronation Street fan Rob Coates.
Fancy writing a guest blog post for us? All details here!
Steve McDonald. Lazy? Layabout? Lothario? Just a few words that spring to mind when the name is mentioned. Ok, perhaps lothario is pushing it, though he's certainly had his share of lovers since he first walked the cobbles as a teenager back in 1989. But cast your mind back to the 90s and you'll find Steve was quite a different character to the one we know and love today.
Steve married Alec Gilroy's granddaughter, Vicky, in an attempt to get to her inheritance. In those days, he was very much driven by cash. He said he loved her, of course, but he's said that so many times in his life, we've all lost count (he managed to fall out of love with Michelle, in love with Becky, out of love with Becky and then back in love with Michelle again!)
But cash was his driving force back in the day and amongst wooing Vicky and selling stolen car radios, he tried his hand a printing t-shirts. He was a grafter. It seemed, at least to me, that back then, the producers were priming him to be the next Mike Baldwin (unfortunately, Mike discovered he had a family he'd forgotten to mention for 30 and they ended up running Underworld). But by the late 90's, Steve had lost all interest in money.
Or perhaps he just grew up. Either way, he turned into the man who runs two businesses whilst barely seeming to lift a finger. Except to reach for the tin of biscuits in the cab office.
But perhaps it was his love-life that got in the way of his mission to be the highest paid CEO of t-shirt printing in Greater Manchester. He has, of course, been married six times. Which is quite a lot for someone only just on the wrong side of 40. One might call him the Elizabeth Taylor of Weatherfield. Or the Gail Potter Tilsley Tilsley Platt Hillman McIntyre Rodwell of Weatherfield. But that sounds ridiculous. And would be slightly confusing.
So, Steve dabbled with big business, went to prison, married 73 different people, bought a taxi firm, bought his mum a pub and fathered Rosemary's Baby. Sorry, Tracey's baby (the delightful Amy. Which I think should be her actual name: The Delightful Amy. I can just see her laughing mischievously in a cloak).
But Steve's lowest time came when he was diagnosed with depression. Luckily, it was cured within eight weeks. And, as quickly as the writers moved on, so shall we.
For someone who has been so busy, perhaps Steve has the right to steal every scene he appears in by looking like he just got up from the couch after picking at his feet. Running two businesses seems remarkably stress-free. Who knew?
With thanks for this guest blog post from Coronation Street fan Rob Coates.
Fancy writing a guest blog post for us? All details here!
Like us on Facebook | Follow us on Twitter | Download our free App | Visit Corrie.net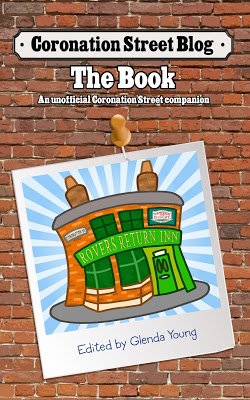 NEW! Coronation Street Blog - the book.
A must for all Corrie fans!
Please read
our advice for leaving comments on the Coronation Street Blog
All original work on the Coronation Street Blog is covered by a
Creative Commons License