Friday 13th January
GRIEVING MICHELLE LASHES OUT A devastated Steve and Michelle say their goodbyes to Ruairi. Steve confides in Liz that he blames himself for Ruairi's death as he reckons it's punishment for his behaviour.
KEVIN AND TYRONE'S GARAGE IS HEADED FOR A CRASH In the garage, Kevin and Tyrone continue to bicker while Fiz despairs of the pair of them. Meanwhile Phelan counts his cash and, telling Andy it would be shame if anything awful were to happen to Steph, promises he'll be in touch when he needs more money. At Fiz and Anna's insistence, Kevin and Tyrone bury the hatchet over a beer but Kevin's perplexed when he gets a call enquiring if he's happy with his new truck. When he explains that he hasn't had the truck yet, he's told that it's definitely been delivered as they have his signature on the delivery note. Is Andy about to be rumbled?
BETHANY'S NEW FRIENDSHIP COMES WITH ADVANTAGES Upon finding Bethany at the bus stop, Nathan asks her if she'd deliver some salon fliers for him in return for a free spray tan. Pleased at the opportunity to bunk off school, Bethany readily agrees. Impressed with Bethany's distribution skills, Nathan gives her another batch of fliers and promises her several free tanning sessions. Bethany's pleased.
ELSEWHERE Having arranged to meet up for lunch, Chesney and Sinead head off to work. Dev asks Chesney and Gemma to come up with ways to increase profits as he needs to cut costs. With other things on his mind, will Chesney remember his and Sinead's lunch date?
Friday 13th January
MICHELLE CAN'T COPE WITH THE ULTIMATE LOSS Michelle breaks down as the midwife takes baby Ruairi away. As Steve, Michelle and Liz arrive back from the hospital, Leanne and Nick watch, devastated for them. Leanne's awash with guilt, knowing she's carrying a healthy baby and it's Steve's.
PHELAN GETS CAUGHT OUT BY CANDID CAMERA Having reported the new truck as stolen, angry Kevin tells Tyrone, Luke and Freddie that someone accessed his email and rearranged the delivery. In a bid to prove their innocence, Freddie, Luke and Tyrone install a high tech CCTV system at the garage, complete with sound and linked direct to Kevin's laptop. Telling Anna that without a pickup truck he's losing money hand over fist, Kevin resolves to find out who hacked into his email and have his revenge. As Phelan heads to the garage to collect his van, Todd approaches and warns him to stop flashing his cash around or people will realise he was behind the building scam and how he ripped them off. When Phelan finds out from Luke how Kevin has just installed CCTV, he's quietly concerned, recalling his earlier conversation with Todd in the garage.
BETHANY DREAMS BIG In the tanning salon, Nathan suggests to Bethany she should plough on with her A levels but take evening classes in beauty therapy. Egged on by Todd, Bethany tells Sarah she's going to stick with her A levels, study beauty therapy in the evening and wants her to make up with Gary. Sarah's taken aback.
ELSEWHERE When Daniel struggles with his MA application form for Literature, Culture and Modernity, Ken offers to help whilst Adam's scathing about his choice of subjects. Meanwhile Sinead shows Beth a diagram outlining her marketing ideas for the kebab shop - Daniel's impressed with her efforts.
Like us on Facebook | Follow us on Twitter | Download our free App | Visit Corrie.net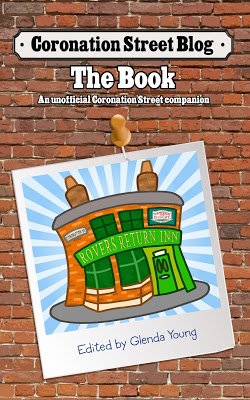 NEW! Coronation Street Blog - the book.
A must for all Corrie fans!
Please read
our advice for leaving comments on the Coronation Street Blog
All original work on the Coronation Street Blog is covered by a
Creative Commons License