Wednesday 11th January
STEVE AND MICHELLE'S WORLD CRUMBLES Steve visits Michelle in hospital and is concerned to find her upset. Michelle explains her waters have broken but it's far too early. The doctor gently breaks the news to Michelle and Steve that she's in labour but the baby is too under-developed to survive. Michelle's devastated. Deeply upset, Liz breaks the news to Leanne that Michelle's baby won't survive. Michelle gives birth to her baby boy. The midwife pronounces him dead and Michelle and Steve sob uncontrollably for the loss of their son. Michelle and Steve cradle their dead son, utterly bereft.
ZEEDAN SEES RED OVER ALYA'S DISLOYALTY After presenting Dev and Zeedan with a warrant addressed to Sharif, the bailiffs start removing the gym equipment. In a bid to try and stop them, Zeedan heads to Underworld. Zeedan barges his way into the factory and demands that Alya hand over the embroidery machine hoping he can use it as collateral to stave off the bailiffs. When Alya refuses, how will Zeedan react?
PETER'S DREAMS TAKE A NOSEDIVE When Peter tells Toyah of Eva's threat to reveal all to Leanne, Toyah insists he must drop his claim against the factory as they'd never forgive themselves if Leanne lost her baby over the stress. With heavy heart, Peter agrees. Peter approaches Aidan and tells him he's dropping his claim, much to Aidan's delight. But how will Adam take the news about Peter's sudden U-turn?
ELSEWHERE Hungover and embarrassed, Sinead apologises to Daniel for her behaviour in the kebab shop but will Chesney be as forgiving? Meanwhile Andy nervously loiters on an industrial estate awaiting delivery of Kevin's new pick up truck. He's about to bottle out when Phelan calls him and makes it clear that if he fails in his mission, Steph will be made to suffer. What will Andy do?
Like us on Facebook | Follow us on Twitter | Download our free App | Visit Corrie.net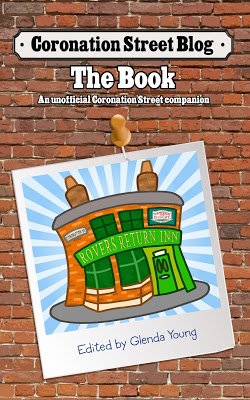 NEW! Coronation Street Blog - the book.
A must for all Corrie fans!
Please read
our advice for leaving comments on the Coronation Street Blog
All original work on the Coronation Street Blog is covered by a
Creative Commons License