It's all about the money, money, money tonight as Kev has drawn down some cash from the garage to pay for Sophie's medical bills (Eh? Did I miss something? When did Sophie hurt herself? Why didn't she take out travel insurance?). Tyrone comes up with the idea of car valeting but Kev's not interested, more bothered about having a go at Tyrone for "dipping into the petty cash last year for a kid that's not even yours", which leads to Tyrone throwing down the garage keys in disgust. Phelan is still after Andy to pay
his
debt so Andy steals a bag from the garage in order to get the new pick up truck.
Dev is also after money, namely the £14K that Sharif took. Zeedan doesn't have it, so Rana suggests that she and Zee help out at the gym in Gary's absence (the recipient of said fourteen grand (Alya) doesn't seem to have made any money from the "vintage" range to help pay back the debt). In his other business, Dev's profits are up 12% (no, not the same as fractions) and he gives Chesney and Gemma a free can of Lilt (each) to celebrate.
Beth's off visiting her mum, who has fallen over, although fortunately she had been shoplifting so the stolen items broke her fall. It's Beth and Kirk's wedding anniversary/date she committed bigamy, so Sinead suggests a night on the town, but Chesney is not impressed with the idea of "going mad in a tiki tiki bar" and swaps shifts with Gemma to get out of it, which climaxes in a kebab shop row with Sinead in which he calls her "embarrassing" and gets a faceful of ketchup for his trouble, whilst she gets an admiring glance from Daniel. I wonder when Sinead is going to Do A Katie Armstrong? Chesney, on the other hand, needs to Do A Kirk and go out with an older woman, one who likes staying in and knitting. And kebabs.
The main story of the night is the baby shower, which features (in no particular order), Robert in his country gent outfit confessing his love for Michelle, a baby stripper, baby bottle cocktails (but no eating chocolate out of a nappy, thankfully), much bitching between Toyah and Eva,which culminates in the revelation that Eva knows about Peter and our Toyah. In the ladies, Eva rhetorically asks: "You do know she won't forgive you" - I seem to remember Eva forgave Leanne for reigniting her relationship with Nick just after Eva'd been dumped by him.
Who are you backing in an Eve/Toyah slap-fight, readers? Eva's got the height but Toyah's got the Battersby genes. Eva's also got low cunning - after finding out that the Barlow Bros. claim on the factory could mean curtains for knickers, she uses the info to blackmail Peter. Drop the suit else she'll tell Leanne about his relationship with her sister.
And of course the most momentous event of the ep is not Gemma's big pants but that Michelle feels that something is wrong with the baby and is admitted to hospital after having lost some amniotic fluid. Everything's OK - but for how long?
Rachel Stevenson -
personal blog
Like us on Facebook | Follow us on Twitter | Download our free App | Visit Corrie.net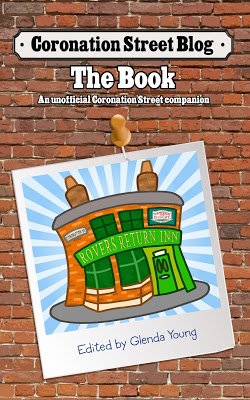 NEW! Coronation Street Blog - the book.
A must for all Corrie fans!
Please read
our advice for leaving comments on the Coronation Street Blog
All original work on the Coronation Street Blog is covered by a
Creative Commons License