Hiya! It's just Jordan with this week's Wednesday review – as tradition dictates, not actually on a Wednesday!

Wednesday's episode opened with a reconciliation – a promising start following Monday's suicide fiasco. It now seems that Michelle has realised that her husband has simply been grieving in his own way and the pair head home from the chapel of rest together to get ready for the funeral of Rauri. In line with Michelle's wishes, they are to be the only two people attending the funeral. A little selfish if you ask me. Michelle and Steve may have suffered the loss of a child, but Liz has suffered the loss of a grandchild. The fact that she has a secret one on the way is beside the point. She understands the wishes of her daughter-in-law and forcibly accepts them, but as she does this, there is a rather unpleasant surprise floating upstream in the shape of a Moses basket. Apparently, she ordered it months ago, which makes me think it was being delivered from the underbelly of China, but obviously does not want to laden Steve and Michelle with it on the day of the funeral for a child that should have been sleeping in it.
"I bet you wish it was me and not her"
"No. I wouldn't wish that on anyone"
"I'm sorry, I just feel so guilty"
"Me too"
The two Street pregnancies which Steve McDonald caused begin to cross paths, when Liz decides the best thing to do is to offer the Moses basket to Leanne. She gratefully accepts the basket and Liz is later seen grooming a plant she has bought in memory of her grandchild. In the meantime, Nick has been playing his super stepdad routine and has bought Leanne the exact same Moses basket on the exact same day Liz gave hers to Leanne.

This part of the story in Wednesday night's Corrie is what drove the episode from what was so far of a rather promising and touching nature right into the realms of anger-inducing ridiculousness. After inviting Liz over for a coffee to ensure she is out of the way when Steve and Michelle return from the funeral, the pair are faced with Nasty Nick. As usual, 2D Tilsley refuses to listen to anyone, cutting everyone off because he knows best.

He cruelly forces Liz to take the Moses basket back without considering the ramifications for anyone in the situation before snarling at Liz that she has nothing to do with Leanne's baby.



Leanne apologies through tears for the hurt she has not caused and Nick looks on, vapid and uncouth. I got so angry whilst watching this scene. If I could swear on this blog, I probably would. Nick's behaviour is so unnecessary. He is cruel, egotistical and I really hope this whole Nick/Leanne and Toyah/Peter thing is a storyline designed to get Leanne and Peter back together.

Apart from this silly scene, the rest of the storyline developed rather well in Wednesday's episode. The funeral was handled sensitively, with both Michelle and Steve getting equal opportunity to express their grief.
"I love you, son"
Elsewhere, Adam did some more pestering and threatening over at the factory, still adamant that he is entitled to something. After Aidan refuses to upgrade Alya to the posher job title of deputy, she agrees to help Adam with his scheme to bring the business of Underworld down.

As well as all this, Norris has a falling out with Brian over time spent in the shower. This results in Brian turning up on in Roy's doorway, expecting lodgings. Why can't Brian just rent his own place? But that is only one of many unanswered questions about the current state of the Street.
As always, thanks for reading!
Jordan, Twitter - @JordanLloyd39

Like us on Facebook | Follow us on Twitter | Download our free App | Visit Corrie.net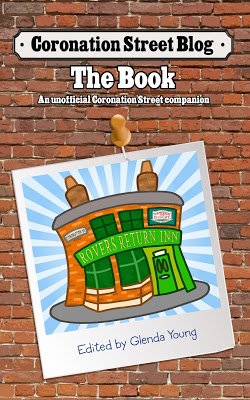 NEW! Coronation Street Blog - the book.
A must for all Corrie fans!
Please read our advice for leaving comments on the Coronation Street Blog
All original work on the Coronation Street Blog is covered by a Creative Commons License