The Sands website is here.
"In the end I felt it was an important story to tell in order to raise awareness of something which affects thousands of women every year.
"I have had to go to some very dark places in my mind whilst filming these heart-breaking scenes but my family, friends and colleagues have been incredible. Losing a child is something that never leaves you so to revisit those feelings as Michelle has been challenging.
"Coronation Street ensured that I had a counsellor on set at all times to go to after filming the scenes but for me the best tonic after a hugely emotional day was to go home to my kids and be reminded of how lucky I am to have them.
"I am very proud of what we have done with this storyline and I hope it helps raise awareness and helps people to talk about their own experiences."
Coronation Street producer Kate Oates said: "The subject of miscarriage will always be sensitive; but telling this story with Simon and Kym at the centre would always have an extra poignancy. Through careful writing and research, we hope we are able to encourage discussion, understanding and compassion for those viewers affected by the loss of a baby. The cast were in safe hands with our amazing and empathetic director Tony Prescott, and it has been humbling to see all the actors involved being so selfless and generous in their performances."
Erica Stewart, Bereavement Support and Awareness Specialist at Sands, said: "We're pleased to have been approached by the researchers and writers at Coronation Street for advice and help to ensure that this heart-breaking storyline, that will see character Michelle have a late miscarriage at 23 weeks, is portrayed truthfully and sensitively.
"Miscarriage, which is the death of a baby in the first 23 weeks of pregnancy, is not rare. Sadly, it affects 200,000 couples each year in the UK, with most pregnancies ending in the first 12 weeks.
"The death of a baby later than this, but before 24 weeks when the baby's death becomes a stillbirth, raises many issues. Bereaved mothers of babies who die later in pregnancy but before 24 weeks don't have the same rights to maternity leave or pay as mothers of stillborn babies, and the baby's death is not formally registered.
"At Sands, we know how distressing this can be when there is no legal document to say that the baby ever existed. We support anyone affected by the death of a baby, from when they find out their baby has died through to the weeks, months and years ahead.
"We applaud our fellow baby loss charities, such as the Miscarriage Association and Tommy's, who are involved in campaigning to raise awareness of miscarriage and funding research into its causes.
"For a TV drama like Coronation Street to cover this devastating experience is a brilliant way of raising awareness of the issues surrounding a baby's death at any gestation.
"The death of a baby is rarely talked about. Many people shy away from the issue, others have a misconception that this is a thing of the past.
"We hope that with a TV drama as popular as Coronation Street covering this heart breaking experience, it will help to lift the taboo, and raise awareness of all the issues that surround the death of a baby."
Like us on Facebook | Follow us on Twitter | Download our free App | Visit Corrie.net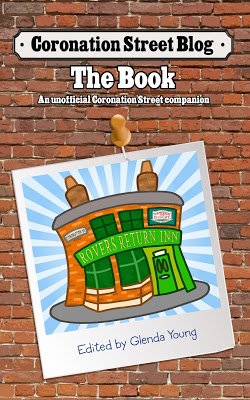 NEW! Coronation Street Blog - the book.
A must for all Corrie fans!
Please read
our advice for leaving comments on the Coronation Street Blog
All original work on the Coronation Street Blog is covered by a
Creative Commons License