We don't often have dream sequences on Corrie, but tonight's ep starts with a tiny Andy trying to beat down several Phelans, to no avail. Andy's day starts off badly and goes downhill from there, as Pat lets himself into the flat to tell Andy to do "one last thing" for him. Unfortunately, that one last thing, after Phelan tries and fails to break Kev's laptop, is to burn down the garage to destroy the CCTV evidence of Phelan admitting the fake flats scam. Pat spikes Kev's drink and then deposits him in the garage to sleep it off/get blamed for the fire.
Andy manages to get out of the flame-filled garage, but drops his keys in the process and, back at the flat, can't get the washing machine to wash his smoke-stained clothes, which leads him to confess to Steph that he's being blackmailed. She leaves the flat after she discovers what her boyfriend is capable of and runs into Phelan and his veiled threats, leading her to the conclusion that she and Andy must leave Weatherfield and start a new life in Portugal.
If I've ever had any doubts about the acting chops of Kym Marsh from Hear'say, then they have been put to bed by her performance during the last few episodes. Michelle is exhibiting signs of clinical depression, saying that she can't imagine living life without
Ruairí, refusing to speak to her mum on the phone or see anyone. Steve is in need of distraction, drinking
ros
é with Tim and Sally (it's not a cruise with (robot) butlers, but it'll do for Sal) in the back room and having tea and Viennese Whirls with Eileen in the cab office. This further upsets Michelle, who can't believe Steve is trying to get back to normal. On his way back, Steve bumps into Nick who, with no notion of tact or diplomacy, asks if there was a reason for the miscarriage and gets a punch for his trouble. This is witnessed by Michelle, who, in deep distress, throws Steve out of the flat and the pub.
Gemma suggests grab a granny night at the Ritz nightclub but Chesney, despite having the mental age of a granddad is not interested, much to Sinead's eye-rolling. Fortunately, the charming Daniel is around to sit on Maxine's bench and admire Sinead's, erm, marketing ideas. Ah, he's sweet, like kittens and sherbet dib-dabs. Although not that sweet since he's quite obviously Ken's son: sniffing around someone who's already boyfriended.
Meanwhile, Gary returns from Germany to find that there's no job at the gym because there's no gym anymore. But his on off on off on off on off on off on off relationship with Sarah is back on after Sarah helps Anna back home after she witnesses the garage fire. Swings and roundabouts, hey. Bethany though, is getting in deeper with kerb crawler/groomer Nathan, who admires her hairstyling handiwork and offers her a camera to set up her own youtube channel. I guess Bethany's forgotten that her great-grandma owns a salon?
Oh and finally, Sally enforces a sex ban until Tim can come up with a solution to reduce global warming, or at least a conversation that's not about Weatherfield County.
Rachel Stevenson -
personal blog
Like us on Facebook | Follow us on Twitter | Download our free App | Visit Corrie.net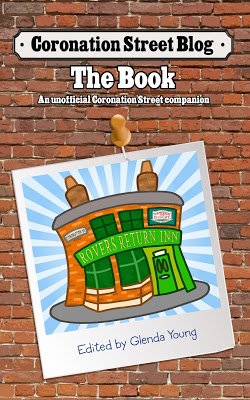 NEW! Coronation Street Blog - the book.
A must for all Corrie fans!
Please read
our advice for leaving comments on the Coronation Street Blog
All original work on the Coronation Street Blog is covered by a
Creative Commons License