Gemma and Michael over at
Conversation Street, the Corrie podcast
, have been keeping fit the Corrie way!
This week it's Bev Callard! And so, it's over to Michael and Gemma...
It's Week Four in our Corrie Fitness adventure, and we have to admit, we've fallen off the wagon somewhat. Home improvements, work deadlines and a new Nintendo console have meant we've only been able to get in a few workout sessions this week, and to top it all off, the parts for our new kitchen were delivered yesterday, and our exercise space is now looking something akin to Cathy's front room hoarde. At times when it's hard to get the motivation to exercise, it can help to put on one of your favourites, and for us, this is definitely
Beverly Callard's Body Blaster
.
Released in 2010, this is an old-school aerobics-style workout devised by Bev, which promises to make over your body in just twelve weeks. Unique amongst the Corrie DVDs we have, Bev is the trainer and presenter all in one, leading each workout with infectious enthusiasm and clear instructions. We really appreciated the fact that Bev was in the driving seat for this one – she has such a warm and bubbly presenting style, and we can't get enough of her northern charm (phrases like "Take it out and sit on it!" still make us laugh every time!). What's more, at the end of each segment, her earnest congratulations make us feel like we'd genuinely achieved something together.
The workout is divided into six sections of varying lengths, including the warmup and cooldown. We always make sure to do the high-energy Operation Fat Attack (12 mins), which is our favourite of the bunch, plus one or two of the others: Hardcore Bootcamp, a 22-minute workout designed to get you sweating; the high-intensity Total Body Drill (22 mins); and Full Body Blitz, which doesn't leave a single part of the body unmolested over its 25-minute run!
Although most of the action is aerobics-style, dancey, high-energy workouts, there are also calisthenics, toning with weights, ab work… basically, the whole package. We loved being easily able to program in a workout based on how long we had and what we wanted to do, which would then automatically play in our chosen order, bookended with the forced warmup and cooldown. The vast majority of exercises were easy to follow, although we found some of the hand weight-based ones a little tricky, as Bev asked us to grip the weights behind our knees. We found this nigh-on impossible, as they would just keep rolling out of place – in fact, we're not quite sure how Bev and the group of boot campers behind her managed it!
What truly makes this our favourite of all our Corrie exercise DVDs, though, is the backing music. Whereas the likes of
Vicky Binns
and
Angela Griffin
had us dancing along to unremarkable, uninspiring disco tracks, all of Bev's tracks are instantly recognisable, popular songs from across the decades. It's not going to be for everyone, but we love cheesy pop music, and the likes of Diana Ross' 'Chain Reaction', Yazz's 'The Only Way Is Up' and Cameo's 'Word Up' had us dancing and singing along as we exercised, and made the workout time just fly by. You know it's a good Gemma and Michael workout when we're prancing around our lounge in circles, slapping each other on the bum to S Club 7's 'Don't Stop Moving' (okay, this isn't part of Bev's routine, but we improvised it once and now can't help but do it every time!).
All in all, this is an excellent DVD, and our top recommendation for anyone looking for a fun but high intensity Corrie-themed workout. And if you like it as much as us, Bev's actually done a load more, including Rapid Results, Real Results, Ultimate Results and Lasting Results. We haven't tried any of these ourselves, but we're definitely tempted to make the purchase!
To find out more about our podcast, search for Conversation Street on iTunes, or go to
conversationstreet.podbean.com
. If you want to follow Gemma's blog, all about her fitness journey, and her love of food and fashion, head to
www.foodfashfit.com
Like us on Facebook | Follow us on Twitter | Download our free App | Visit Corrie.net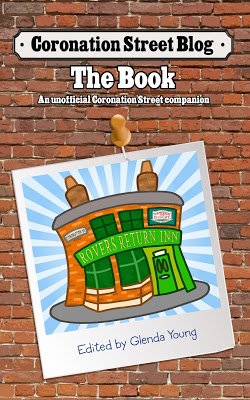 Coronation Street Blog - the book!
A must for all Corrie fans.
Please read
our advice for leaving comments on the Coronation Street Blog
All original work on the Coronation Street Blog is covered by a
Creative Commons License