Gemma and Michael over at
Conversation Street, the Corrie podcast
, have been keeping fit the Corrie way!
This week, Michael and Gemma get stuck in with Funk Fit featuring some of the younger Corrie stars of the early millenium.
Do you want to be more funky, but don't know where to start?
Do you wish to be more fit, but lack a funky method of achieving your goals?
Do you want to work out with Coronation Street stars, but have never found a video that included more than one at a time?
Well, we've got the DVD for you.
Coronation Street Funk Fit has been meticulously researched and developed to be 100% more funky than any of the other fitness videos on the market. It features the fine dancing talents of Lucy-Jo Hudson (Katy Harris), Tina O'Brien (Sarah Platt) and Nikki Sanderson (Candice Stowe). Using their freshest techniques, the trio and Troy the Trainer will guide you painstakingly through each segment of a dance, culminating in a tour-de-force performance the likes of which hasn't been seen since the highs of 90s pop, when crop tops, hair mascara and platform Mary-Janes were the height of fashion. As this DVD was released in 2004, believe us when we say there has been plenty of time for funky scientists to distil the decade into its most essential dance techniques.
Utilising incredible moves like the body roll, drop-wiggle-up, march, shuffle-arms-head-back, and slide-slide-slide-slide, you'll build up your dance repertoire. If you're a complete dance novice, fear not, because each workout segment tackles one dance sequence, repeating the action over and over again until you too can dance with the self-aware awkwardness of a bunch of early 20-somethings who are trying to be cool whilst at the same time trying not to commit to caring about being cool. It helps if you wear black, baggy, military-style trousers, tight fitting tops in primary colours, and black basketball trainers. Hair braiding is awarded extra marks when it's done in cornrows.
When completing the DVD, you first have to decide on your workout personality for the duration. Lucy-Jo-style involves competent seriousness – never have too much fun doing these moves, because dancing is a serious business, and also they didn't let you wear the same trousers as everyone else, so hold back a little just to punish them. To perform Nikki-style means to try and upstage everyone with your sexiness in as nonchalant a fashion as you can muster. You know you nailed the body roll in the warm-up, and things can only get better from there. To 'do a Tina', you'll need follow along innocently trying to do your best, allowing yourself to be inspired by both Nikki and Lucy-Jo's examples, depending on how shy or outgoing you feel at any particular point. Think 'I'm cute and goofy, but I'm also SEXY' and you'll be there. You'll never be able to pull a Troy, because Troy is the trainer and he's cooler than you'll ever be or can hope to be.
After several segments, you'll confidently loop everything you've learned into the 'finale', which is a performance of the entire dance from start to finish several times. After you're done, you will have spent about an hour learning dance moves you can never show anybody, because they're too funky to show in public. You will have barely broken a sweat, too, because Coronation Street Funk Fit is a fitness dance that isn't really fitness or a dance. Ten out of ten.
To find out more about our podcast, search for Conversation Street on iTunes, or go to
conversationstreet.podbean.com
. If you want to follow Gemma's blog, all about her fitness journey, and her love of food and fashion, head to
www.foodfashfit.com
---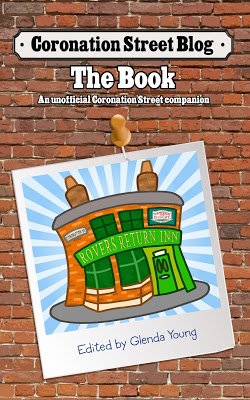 Please read
our advice for leaving comments on the Coronation Street Blog
All original work on Coronation Street Blog is covered by a
Creative Commons License