Corrie weekly updates from 1995
All the wit and warmth of Weatherfield
None of the waffle

Available from

amazon.co.uk

or

amazon.com
Each week the grooming of Bethany ramps up a little more and makes for even more uncomfortable viewing. This week, Nathan comes to tea at the Platts with Sarah and Gary, who are shaken at how old Nathan is. Gary susses Nathan out straight away and knows there's summat not right about a man older than him and Sarah going out with someone as young as Bethany. Sarah doesn't want to cause a fuss, afraid she'll lose Bethany. But she does insist on Bethany going on the pill and books an appointment to see the doctor. Bethany's already had a contraceptive implant so goes through the motions of pretending to ask the doctor for the pill, just for appearances sake for Sarah. Worse is to come when Bethany goes to Nathan's flat and he's got his mates there to check out his new acquisition. "When she's ready, you'll be the first to know," Nathan tells one of his mates. It's horrible to watch as Bethany gets sucked into Nathan's rotten world. She also gives a fake alibi to the cops this week after Nathan is arrested for a serious assault. Bethany lies and tells the copper that Nathan was with her at the time of the assault.
It's Faye's birthday and Anna gives her a hundred quid after Roy gives her a bonus. And what does Faye go and do with her birthday money? She persuades Seb to have a tattoo, the pair of them are going to have 'his and hers' tattoos, or at least that's the plan. But it's only Faye who gets inked while Seb chickens out. When Anna finds out about the tattoo, she fair throws a wobbly. She's already incensed about Seb working for Pat Phelan. Anyway, Faye's tattoo gets infected and she has to go to hospital, but she doesn't tell Anna. Izzy and Gary go with Faye to A&E where, in a soap coincidence, Faye's baby Miley comes running into the waiting room with her dad, Jackson. Jackson and his family are in the UK from Canada for a couple of weeks and there's a wonderful scene when Jackson – now a confident father – and Faye – still the reluctant mother - reunite with their baby. Faye takes Jackson and Miley back to visit Anna and Tim, which defuses Anna's wrath when she finds out about Faye's infected tattoo.
Chloe continues to stalk Peter Barlow and using the tracker she installed in his phone, she 'accidentally on purpose' bumps into him in town. She's in tears and tells Peter that an ex-boyfriend of hers is stalking her. Peter takes her back to her house with its hideous flamingo print wallpaper. And if that isn't a sign of a very crazy mind, I don't know what is. Run, Peter. Run.
Maria's freed from prison this week, she's got a tag on her leg which means she's under a 7.30pm curfew and has to be back in her flat or alarms will go off. It's Johnny Connor who meets Maria at the prison gates with a lift back to Weatherfield and a warning to stay away from Aidan. When Maria's back at work, Gail watches in the salon as Maria and David joke about and when she sees David give Maria a friendly hug, she assumes there's chemistry between them. "Mum thinks you're giving off all the right signals," laughs David. "That's my security tag," Maria replies. But Gail has convinced herself that Maria and David are becoming an item (they're not) and playing up to his mum, David invites Maria for tea.
Toyah's not happy to have Maria back on the street and the two of them exchange words in Roy's Rolls. If you cast your mind back, way back, there's history between these two. When Toyah was dating one of her college lecturers called John, Maria slept with him and ended up pregnant with his child, before suffering a miscarriage.
Elsewhere, Gail tells son number one, her golden boy Nicky, that he's better off without Leanne. She's never liked Leanne and tells Nick in no uncertain times that he should dump her and forget about the baby. This comes about because Michelle sends Nick a picture that Leanne had taken of Steve and Liz with the baby. Nick's incensed that Leanne has given Steve access to the baby without his knowledge. Worse is to come for Nick when Steve storms into the register office while Leanne is registering baby Oliver's birth and she ends up putting Steve's name on the birth certificate as the dad. Nick drowns his sorrows in the Bistro, aided and abetted by Michelle who's out for revenge on Leanne. She invites Nick back to her flat and goes in for the kill, snogging him on the sofa, but when she wants more, Nick pulls away and says he still loves Leanne. We see him sitting on Maxine's bench later in a right old state with tears in his eyes.
And that's just about that for this week.
Remember, you can sign up to get these Corrie weekly updates by email at
http://www.corrie.net/updates/weekly/subscribe.htm
This week's writers were Susan Oudot (Monday double); Ella Greenill (Wednesday); Mark Burt (Friday double). Find out all about the Coronation Street writing team at
Coronation Street Blog: Exclusive: All Current Corrie writers online
Glenda Young
--
Blogging away merrily at
Flaming Nora
Website:
glendayoungbooks.com
---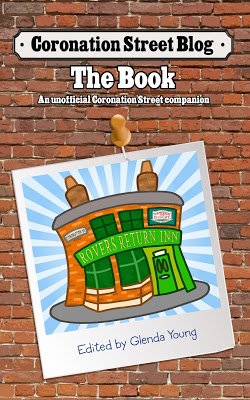 Please read
our advice for leaving comments on the Coronation Street Blog
All original work on Coronation Street Blog is covered by a
Creative Commons License