It's a bad mood Monday on Corrie as Ken is angry with Pat, Tracy is cross with Ken, Peter's furious with Chloe, Sinead's fed up of Daniel, Pat's displeased with Todd and everyone's annoyed with Peter.
Sinead is still lying to Daniel, claiming that her abortion was a miscarriage. And it's all in vain as her hope was that without the baby, Daniel would go to Oxford, but he's determined to be with her. That is until Daniel calls the doctor because Sinead's cramping and nauseous and her web of lies is easily torn as she admits to the doc that she hasn't seen anyone about the "miscarriage" as she actually had a termination. The ensuing argument is well-written and acted as, ironically, Sinead gets her way and Daniel dumps her, leading Sinead to hit the brought-back-from-holiday booze.
Meanwhile, Nick, Toyah, Leanne and Simon gather in Victoria Court to destroy Peter's character. He in turn visits "psychotic cow" Chloe to try to get her to admit that she was lying to Ken, to no avail. Toyah decides to give Peter the old heave-ho and rings up tedious Toby who is round in a jiffy, or at least an un-vacuumed Ford Sierra. Come on, Toyah, stop bouncing from one man to another. Or at least bounce back to Spider. After witnessing Toyah getting into the car with her ex, Barlow Jnr storms to the pub and attempts to steal a bottle of whisky, only slamming down a twenty when Liz challenges him. Cheaper in Freshco's, Peter! He doesn't drink it though, just sniffs it before breaking it on the kitchen floor. And the Toyah decides to stay with Peter because - she's the only one who can save him? Urgh. I'm as big a Peter fan as the next woman d'un certain age, but that made me roll my eyes like Sean Tully.
Pat's still angry about Todd's ghostbusting adventures, and both Todd and zero hours intern Seb fail to turn up to work, but his day gets worse as Ken chews a strip off him for turning up late. Ken has obviously never employed a builder before. They row about how long the work is taking, with Ken casting aspersions on Pat's character and Barlow Snr being insulted as "a second rate Stephen Fry" by Phelan.
Amy turns up for her violin recital rehearsal, but she's playing something else, hiding money behind the clock after a phone call. At the performance, Amy goes AWOL, and whilst Tracy, Luke and Steve search for her, a mysterious heavy breather lurks in the ginnel and Sinead bangs furiously on the door of number one. A noise is heard at the back door and then Ken is lying in a pool of blood.
So Sinead, Pat, Daniel, Tracy, Peter and (ok I read the previews) Adam, all have a grudge against him - who
killed
attacked Ken?
Rachel Stevenson -
on twitter
---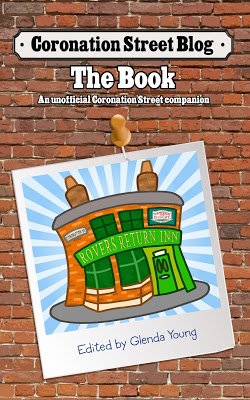 Please read
our advice for leaving comments on the Coronation Street Blog
All original work on Coronation Street Blog is covered by a
Creative Commons License